Electronic voice translator LANGIE S2 - with SIM card support
Accessories
Product description

Electronic voice translator LANGIE S2 - with SIM card support

Electronic voice translator Comet LANGIE S2 - with SIM card support (53 languages). Unique digital voice interpreter will open up new opportunities for you everywhere in the world!

LANGIE comes in a new version S2, which features a number of enhancements against its predecessor, the LT-52. First and foremost, it is no longer just a compiler, but a full-featured tourist guide. The most important difference is the support of 3G SIM card - LANGIE GLOBAL SIM, with which you can communicate in 160 countries of the world.

Two-way voice translation with direct voice translation, thanks to which it will be no longer a problem for you to understand people while traveling around the world. Do you like travel and discover new places? Do you need to translate a language? You certainly remember the unpleasant situations that occured because of the language barrier. Not anymore! Digital voice interpreter LANGIE, containing up to 53 incredible languages including Slovak or Czech, will make your communication abroad easy for you. The battery life, which is up to 5 days in standby mode, will certainly be interesting as well.

Use the translation in 160 countries around the world through LANGIE GLOBAL SIM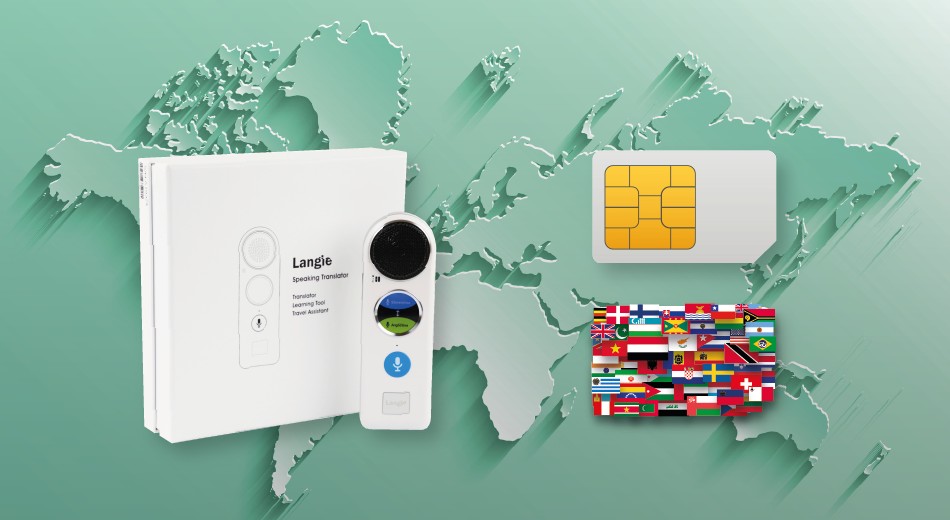 If you don't have a WiFi network available, you can use a 3G n
etwork to connect to the internet. Using Langie Global SIM card, which, after purchase includes an initial 10 USD credit (about 50MB
, that you can use for more than 500 translations - an average of 7 seconds per phrase) in more than
160 countries of the world.
Full list of countries
HERE
.
The validity of the LANGIE GLOBAL SIM Card
is not limited in time
and expires only if the SIM card is not used for more than 2 years. Once the prepaid data has been used, you can recharge the SIM card directly via the website
www.langieglobalsim.com
after entering the telephone number and selecting the charging method.
The LANGIE S2 translator also offers the ability to create a LANGIE GLOBAL SIM card access point - the 3G HOT SPOT. If you want to create and share a Hotspot Langie access point with other devices (such as a mobile or tablet) and use Internet data all over the world, it is preferable to choose a time-limited Internet data pack with a higher volume of data (for example 1GB - 5GB). If you use a SIM card only for online translation via LANGIE, which consumes only a small amount of data, it is enough to recharge the credit for (10 USD - 100 USD, what is about 50MB - 500MB of data) and these data are not time-limited, so you can use them for 1-2 years (no limited expiration).
Now you can insert any SIM card into LANGIE, but you do not need to insert any SIM card if you do not want to. Just connect to an available WiFi network and LANGIE translation works as it should work.
LANGIE S2 PROMO VIDEO
Langie also finds its usage when working abroad.
If you don't speak fluently with a foreign language of the country where you are going to work in, LANGIE is a great solution for you. Whether for women in nursing jobs abroad, or for men in various construction jobs.

No additional charges for updates or other hidden charges. No need to register personal data or install application into mobile phone.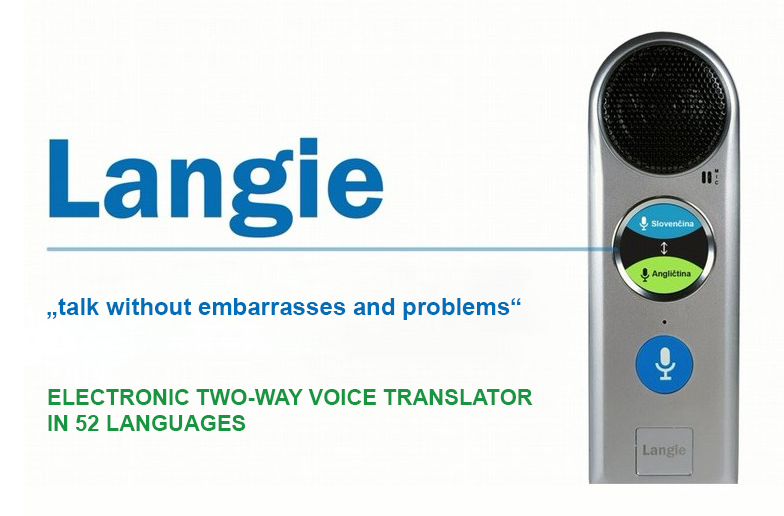 The LANGIE Electronic voice translator will open up new opportunities for you everywhere in the world! It is intended for everyone, whether children or older people, who will appreciate easy use of the translator. Voice translator, which will be with you everywhere you go. It can easily translate long sentences (not just short phrases). LANGIE online and offline translator is in our stock directly for sale - a price that is more than adequate to its use.
How it works video
| | |
| --- | --- |
| You can see more videos directly at LANGIE Youtube channel HERE : | |
The spoken word translator will also serve as a multimedia player for videos, pictures, or as a group translator (you can pair more LANGIE translators) - especially suitable for multiple foreign delegations. Another option for you will be the possibility of learning a foreign language - a sophisticated learning software. So you also have at disposal the translation dictionary in 53 languages (not only English dictionary) and you can translate sentences or other texts online/offline.
This is REVOLUTION in COMMUNICATION !!!
THE BEST WORLD VOICE TRANSLATOR
Langie S2 Translator supports 53 languages and all this in audio form and really with unbelievable ACCURACY OF TRANSLATION!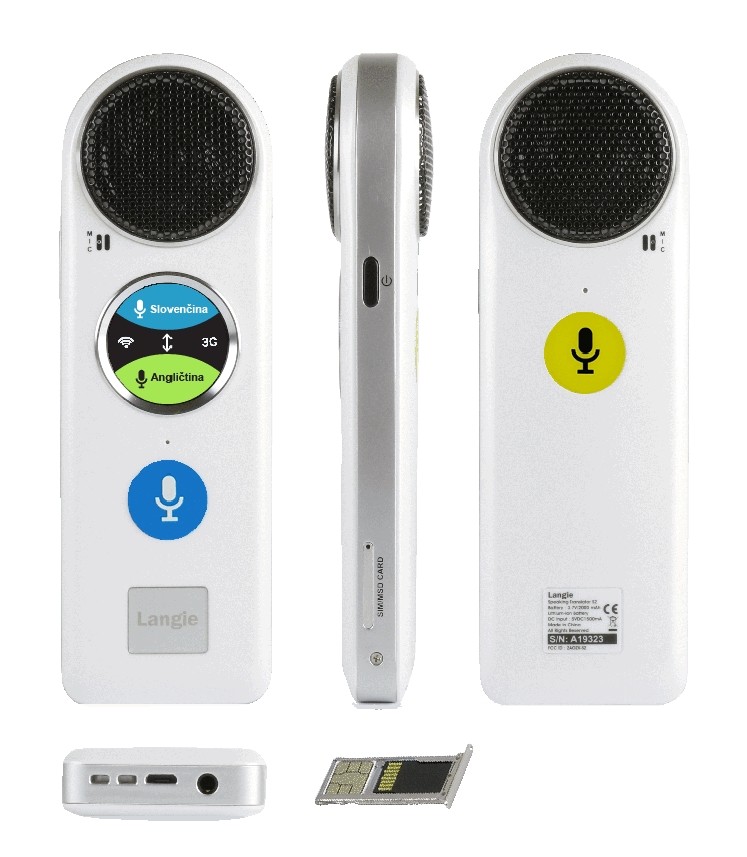 How does it actually work?
It works on a very simple and intuitive principle. Just hold the touch key on the device while you say words, then release and the device immediately translates the required sentences.
The Langie is equipped with a built-in 1" touchscreen LCD and a dual system of high-quality speakers and microphones. Langie has a microphone and speaker is on the front side of device, through which you can speak the message in your own language, and a person beside you (foreign person) will instantly hear the translation into his language. And, in return, a foreign person can tell the answer in his language, through the microphone and speaker on the back side of the device, and you will hear instantly the translation in your language.

If you want to translate some text or words into another language, simply press and hold the blue microphone button and release it after the spoken message (text) is over. Within 1-2 seconds, the translator translates your message in the form of text viewed on the display, and this message will also be available in the audio form (this language must be supported). If you want to translate what the other person tells you, simply press and hold the yellow microphone button and release it again when the message is finished. The whole process is incredibly simple.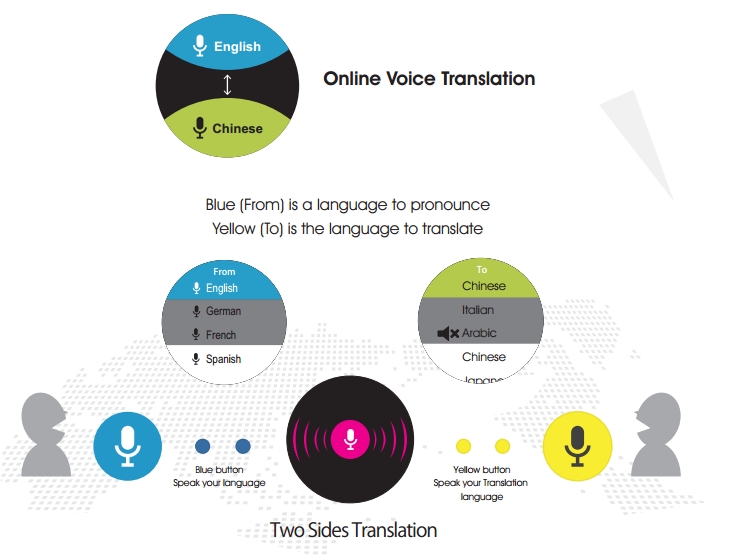 Very practical is also the function of the GROUP translator and it will certainly find its application in various foreign delegations.
It is enough to pair your device with 2 or more LANGIE users online via WiFi, so a guide or interpreter can talk to multiple people around the world at the same time. This feature also supports the creation of a group, where more people who speak different languages can communicate with each other and each of them can be in a different country. On one device can be created several independent groups.
This translator of texts and sentences will easily manage it. A pocket translator can recognize your voice and then translate it in real time into a large number of languages, making it a great language tool for travel, self-education, shopping or business. It translates your words straight away and therefore makes you feel as if you were directly communicating with another person. Thanks to the practical mini design, it is very easy to carry, you can put it into your pocket, handbags and so on.

Here you can see the table of supported LANGIE translator languages.
Not all languages have a spoken voice translation available, but most of languages is including with the spoken text translation
(all languages translate phrases in text form on LCD display).

Complete language list:
African, Arabic, Bengali, Bulgarian, Cambodian, Cantonese, Chinese, Croatian, Czech, Danish, Dutch, English, Filipino, Finnish, French, German, Greek, Hebrew, Hindi, Hungarian, Indonesian, Icelandic, Italian, Japanese, Javanese, Korean, Lao, Latvian, Lithuanian, Malayian, Malay, Nepalese, Norwegian, Persian, Polish, Portuguese, Romanian, Russian, Serbian, Sinhala, Slovak, Slovenian, Spanish, Sundanese, Swahili, Swedish, Tamil, Telugu, Thai, Turkish, Vietnamese, Ukrainian, Urdu
The pocket translator in offline mode with no internet connection offers:
Multimedia support - picture gallery, digital voice recorder, video and music player.
Educational function - contains voice and picture education for basic languages. So you can learn the language wherever you go.
Audio amplifier - records and then strengthens your spoken words, greatly helps in communicating with people who have worse hearing.

If you pair a pocket translator with online Wi-Fi, you will get some interesting features:
Voice search for images - Recognizes your voice and then searches for the desired thing in the form of an image.
Group interpreter - Join a group conversation with people in different languages.
Translation from domestic language into other world languages, requires online connection.
Voice translator in 53 languages
It recognizes your voice and then translates it into a large number of languages. For better word recognition, WiFi internet connection is required.
Voice search for images
It recognizes your voice and then searches for the image you want. WiFi internet connection is required.
Group interpreter
Online connectivity allows group conversations with people in different languages. WiFi internet connection is required.
Word translator without online connection
It recognizes your voice and can translate short phrases or simple words based on the embedded algorithm used for comprehensible translations. It supports only 13 world languages.
Self-learning option without online connection
With built-in software, you can learn the selected world language very quickly and efficiently.
Features:
Instant translation in 53 languages
Sensitive microphone with voice recognition
Digital voice recorder
Music and video player
Online/Offline translation
Battery life: 5 days in standby/5-8 hours of continuous operation

What are the advantages of the LANGIE handheld translator compared to the classic translator via the app on your phone?
LANGIE translator is a professional translating device, the hardware and software system has been designed and manufactured directly for speech translation. It is not a phone designed for multiple purposes.
It has a technology for use in a noisy environment (speech noise reduction when translating), the classic app for translation has a problem with it.
Very simple and easy to use. Even for not technically skilled people.
Utilizing the highest quality of translation services and integrating major translation recognition systems in the world, LANGIE's mechanism of learning system is almost at the same level as humans. Its language recognition system is hybrid, based on acoustic modeling of neural network and language modeling.
It uses advanced translation service, translation accuracy is much higher than classic free translation apps in phone.
LANGIE uses its own translation servers in many places in the world, the translation service is stable and the speed of translation is fast.
It is a standalone product that is not tied to use with a mobile phone or application in the phone, it does not store and does not requires any personal data as compared to using the mobile application over the phone.
LANGIE also has many other features, such as learning, group interpreter, and so on.
In many cases, the use of a mobile phone is quite personal. The person you are trying to communicate with is not familiar with your phone and after a certain time you will probably need to return your phone back to you to unlock the screen. Mobile is for one user, not for multiple users. Using a mobile phone for these two-way translations makes it quite uncomfortable.
LANGIE does not require any hidden fees for the use of translation services.
Why is it better to have an ONLINE connection than OFFLINE translation when using LANGIE?​
Certainly, you need to realize that any OFFLINE translation mode on all translators contains only a limited vocabulary (basic only) and the translation is often inaccurate or incomprehensible. ONLINE mode after connecting to the WiFi network ensures constant updating and correction of the translation, the database is several times larger than the offline translation so you have the guarantee that the translation will be as accurate as possible and you will be able to communicate without any difficulty. For WiFi connection, we recommend that you create HOT SPOT mobile wifi access point directly from your mobile phone (which you will always have on hand) or use LANGIE GLOBAL 3G SIM card.
Can Langie translate really reliably?
LANGIE is an advanced IT product of the latest generation. In order to achieve the best translation results, it works with 7 online search engines. The manufacturer COMET has even more than 20 years of experience in the market of education and translation in various world languages. LANGIE is constantly expanding and updating its translation database (via OTA) directly to your device to provide the most effective pocket tool for translation into other languages ​​of nowadays.
Specifications:
Type: LANGIE S2
Processor: ARM Cortex 1,3 GHz QUAD-core
Memory: 16GB
LCD: 1,08" Touch Screen (27,5mm)
3G: WCDMA
Battery: 3,7V/2000mAH
WiFi 802.11b/g/n
Bluetooth: 4.0
Micro SD Card: Supports up to 32GB
USB: Micro USB 2.0
Headphone input - Jack connector 3,5 mm
USB adapter: Input 100V - 240V
USB adapter: Output 5V DC 1500mA
Dimensions: 48mm x 148mm x 17mm
Weight: 125 g
LANGIE package contains:
1x LANGIE S2 voice translator
1x USB charger
1x USB cable
1x Headphones
1x Protective case
1x SIM card picking needle
1x Rubber pen
1x Lanyard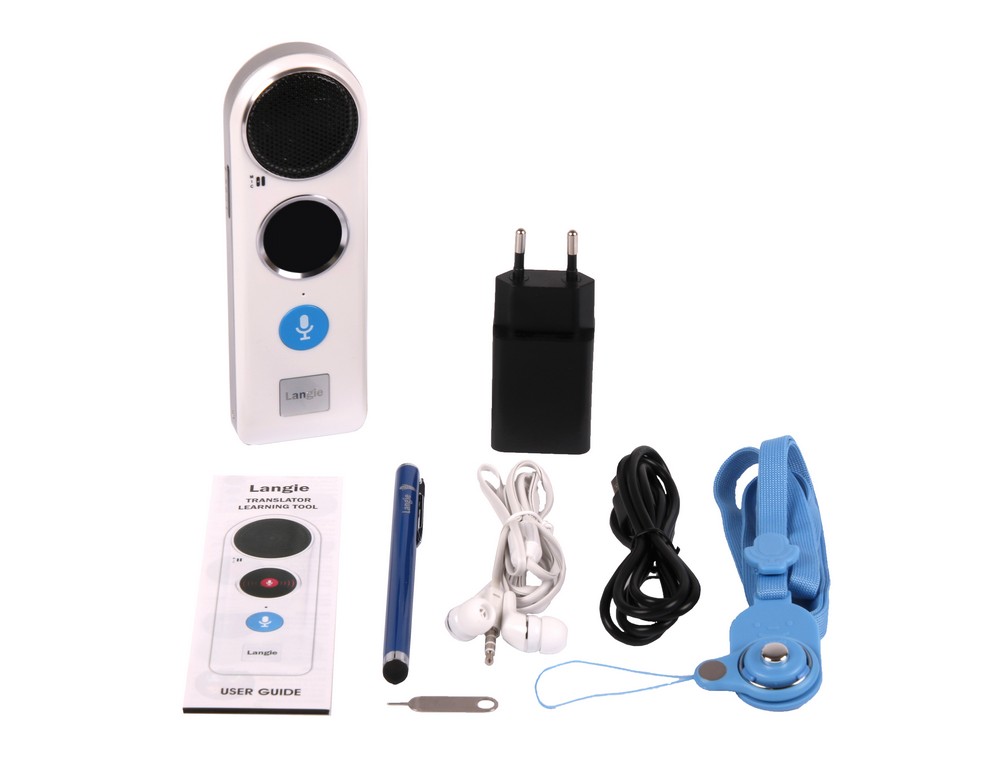 Comments
Other Products