DVR with 4 inputs, real time 960H, HDMI + 1TB
Product description

DVR with 4 inputs, real time 960H, HDMI + 1TB

DVR with 4 inputs, real time 960H, VGA, HDMI, mobile and Internet access + 1TB HDD capacity. This 4-channel DVR is the latest from IQCCTV and offers 960H High Definition recording in real time. The DVR also has VGA and HDMI outputs. The model has several modes of alarm recording, support HDD and manages inputs of video alarms. Back up of files is fast and easy with built-in USB port.

IQR960D4 offers recording in HD 960H, WD1and WHD1 WCIF in real time and supports PTZ cameras via RS - 485 for easy operation and setup. The DVR is equipped with On Screen Display (GUI) and can be controlled using the new touch pad, remote controller, or mouse (both are supplied as standard).

Features:

● Recording Speed: WCIF/D1/HD 960H: 100fps real time (25fps for camera)
● 2 Audio inputs
● Remote access via smartphone, tablet, PC and Mac
● E-mail alerts
● VGA, BNC and HDMI monitor outputs
● Front panel, mouse or IR remote control
● Accepts 1 hard drive up to 4TB (not included)
● The estimated consumption of space for 1 camera per 1 day: 35 GB of the highest quality, 17 GB of middle, and 8GB at low quality.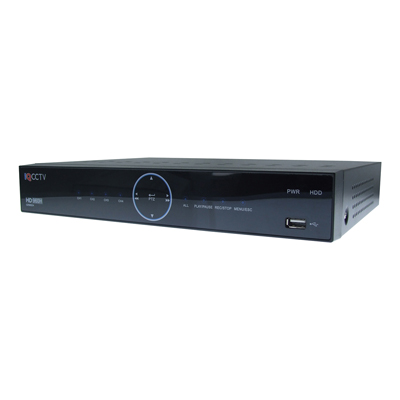 Technical specifications:
Brand: IQCCTV
Model number: IQR960D4
Video Compression: H.264
Video system: NTSC / PAL
Video input/output: 4 CH input, 1 BNC, 1 VGA, 1 HDMI
Spot output: No
Audio Input/Output: 2 CH Input, 1 CH output (RCA)
Display resolution: PAL: 960x576 @ 25fps, NTSC: 960x480 @ 30fps
Display features: Single, Quad, SEQ
Recording Resolution: PAL: D1 mode: 360x288 (CIF), 720x288 (HD1), 720x576 (D1), 960H mode: 480x288 (WCIF), 960x288 (WHD1), 960x576 (WD1) NTSC: D1 mode: 360x240 (CIF), 720x240 (HD1), 720x480 (D1), 960H mode: 480x240 (WCIF), 960x240 (WHD1), 960x480 (WD1)
Recording speed: PAL: D1 Mode / 960H Mode: 25fps, NTSC: D1 Mode / 960H mode: 30 fps
Recording Mode: Continuous / manual / motion detection
Playback channels: 1/4 Ch
Playback speed: PAL: D1 Mode / 960H Mode: 25fps, NTSC: D1 Mode / 960H mode: 30 fps
DVD - RW: No
Sensor & Alarm I / O: No
IR Extender Port: No
Network: LAN, DHCP, Dynamic IP & DDNS
HDD Interface: 1 SATA HDD, up to 4TB (1TB included)
Multiplex operation: live view, record, playback, backup and network
USB: 2 x USB (for mouse and backup/upgrade)
PTZ Control: Built-in RS485, support Pelco - P and Pelco - D
Mobile Surveillance: IQCMS - Android and iOS
CMS Software 64 CH DVR 256 pieces, no limit for user
Web browser: Internet Explorer, Safari, Chrome, Firefox
VGA: 800 * 600, 1024 * 768, 1280 * 1024, 1440 * 900, 1920 * 1080
HDMI 1080p
Power supply: 12V DC 2000 mA
Fan: No
On/Off Switch: No
Remote Control: Yes
Dimensions (WxHxD): 301x46x210mm
Comments
Other Products