DOD LS500W dual car camera FULL HD 1080P + GPS
Product description

DOD LS500W dual car camera FULL HD 1080P + GPS

DOD LS500W dual car camera FULL HD 1080P + GPS. It comes with a Sony STARVIS image sensor, 6G glass lens and ISO up to 12800. The DOD LS500W is one of the first DOD cameras with FULL HD 1080p camcorder to provide full-featured video with unrivalled quality on both channels of camera with a recording frequency of 30 fps.

It captures FULL HD 1080p HD video recordings GPS 10Hz, disposes with a parking mode and H.264 image compression, MOV file, a data stream approx. 15 Mbps for each channel. One minute at the resolution of 1080p 30fps video from one channel is approx. 110 MB. Supports micro SD up to 128 GB.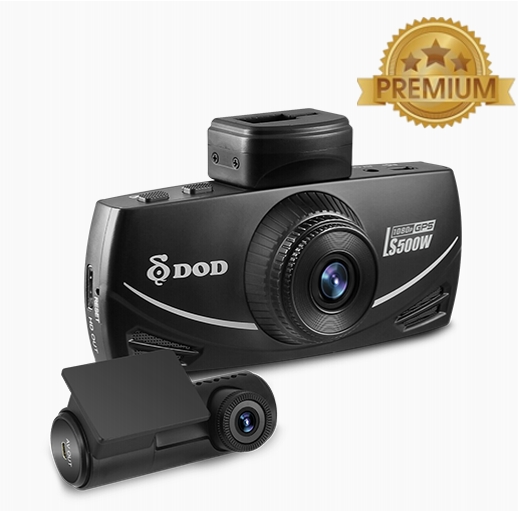 The camcorder also has an ISO sensitivity of up to 12800 for excellent shooting of under low light conditions and night video. Built-in 10 Hz GPS processor allows drivers to capture accurate speed and position. The DOD LS500W can is simply controlled via push buttons and a clear 2,7" LCD display. The camera menu is in the Slovak language.
DOD LS500W camera model in comparison of the model DOD RC500S is equipped with LCD 2,7" lithium battery with a capacity of 180mAh (DOD RC500S has a super capacitor). In other hand, the DOD RC500S has a feature WiFi connectivity via app on your Smartphone or tablet and a CPL polarizing filter. Other parameters and features of the DOD LS500W and RC500S cameras are the same.
The camera set has a wide-angle lens of up to 145 ° front camera and 140 ° rear camera allowing you to have a really wide-angle view around your car, approaching the fish eye parameters. The use of the rear camera is optional, the front camera can also be used separately. In term of purely optical parameters, the DOD LS500W is equivalent to the DOD RC500S (and vice versa). Also there is an option of 180-degree turn round of image for front and rear camera (camera can be mounted "down head"). Built-in lithium battery with a capacity of 180mAh.
Certified camcorder for use throughout the EU (ie. in Austria, Germany and other member states). They meet the criteria of technical standards and can be used in the vehicle.
The front camera is equipped with the brand-new SONY STARVIS (Star Visibility or visibility in the light of stars) sensor IMX291, which offers revolutionary night mode even in complete darkness!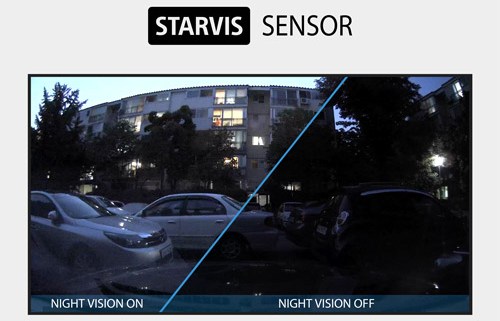 Technologically, this is the "next generation" car camera - with the latest technologies (optics, microchips, functions) that the car market offers.


The DOD LS500W is one of the best camera systems with dual front and rear cameras.
It's your guard system during day and night 24/7.
You can attach the front camera as required by the suction cup or adhesive holder. The rear camera with a compact size of only 7,5 cm is attached with a 3M holder with adhesive tape. The cable connection between the cameras is approximately 5,5 m long. The DOD LS500W can be connected to a 12/24V power supply, so it is possible to use it exept the automobile also for other vehicles, trucks or buses. The front camera is also easily attachable onto the car's windshield with a 3M adhesive holder that is easily attached to the camera.
Support for up to 128GB micro SD cards (about 18 hours of recording from both cameras - 9h for one channel)

The recording is recorded from both cameras and combined with a high ISO sensitivity of up to 12800 allowing you to monitor the surroundings of the car even in bad light conditions, this feature is a significant safety bonus when monitoring your car during your absence. A great advantage is the improved new-generation parking mode system that will start recording 15 seconds before it detects movement. This will ensure that you have a record of what happened from the beginning to the end from both of the cameras in front and behind the vehicle. When you continue driving, the camera switches back to recording in the loop mode.
The leader on the market of car safety and monitoring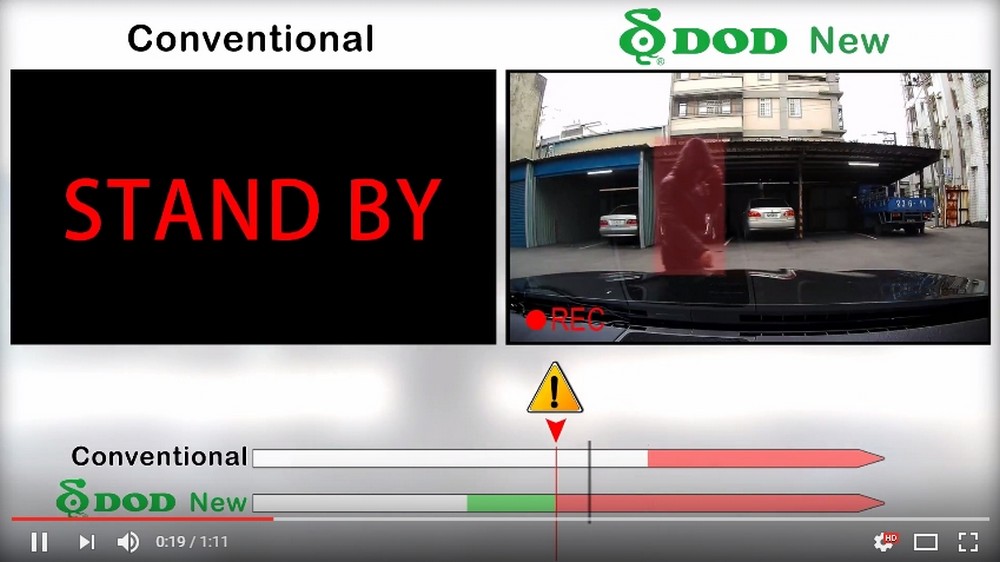 The camcorder supports micro SD cards up to 128GB (standard cameras up to 32GB). In the event of an accident, a severe braking or a tilting of the car, the camera kit has the G sensor function, which protects the files against the impact. Also, in an emergency, users can manually protect an existing file by long pressing the "SOS" button. The FULL HD car camera set with advanced WDR 2.0 technology and WiFi connectivity is your reliable companion on the roads.
Product features:
Dual 1080p HD video recording
Extended ISO range to ISO 12800
G-sensor protection of files
SOS function - Lock function
Parking surveillance
Advanced WDR 2.0 technology
Ultra light lens with f/1.6 aperture
Supports 128GB Micro SD cards
Dual FULL HD 1080p video recording
Front and rear view of your vehicle are recorded in 1080p quality in high FULL HD resolution. Moreover, the image is captured at the ultra-wide viewing angle of the 145° front camera, 140° rear view camera for total protection.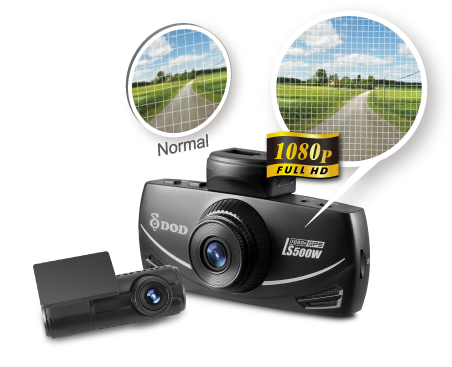 Extended ISO range up to 12800
The DOD LS500w has a new Sony STARVIS CMOS sensor with improved sensitivity not only in normal lighting but also in poor lighting conditions. Enhanced range increases the brightness of fast-moving objects at night. The camera can now capture even more details in ultra low light conditions.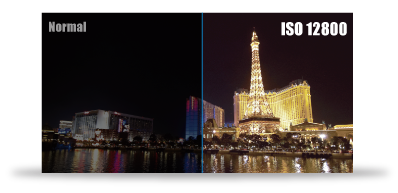 Advanced WDR 2.0 technology
Stunning video in any light and balanced exposure in every condition. Makes night shots brighter and reduces light exposure to achieve the most beautiful image.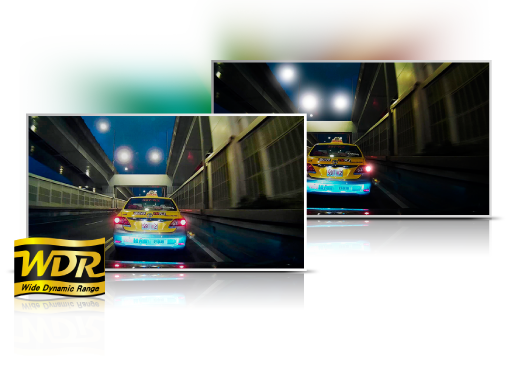 Large f/1.6 aperture, high performance in low light
Big aperture reflects the amount of light falling on the sensor when shooting. The larger is the aperture (tsmaller number f), the more light will be captured in the camera sensor. With the widest apperture, which is 66% larger than the competition on the market, DOD cameras produce the sharpest picture.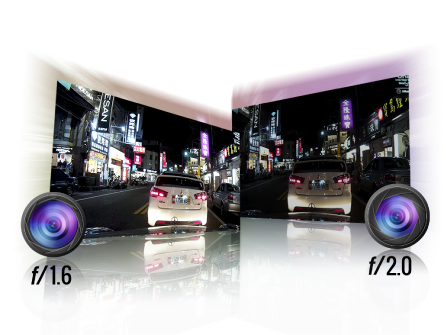 6G sharp glass lens
The 6-element sharp lens, which is made of six layers of glass, provides a stunning, clean and undistorted image.
Wide angle view of 145°
Image capturing at a wide viewing angle of 145 ° for optimal coverage and clarity. The front camera is equipped with an extremely wide-angle lens, that enhances the range of recording, because the panoramic view of the front of the vehicle captures all sides without distortion (so no distorted image).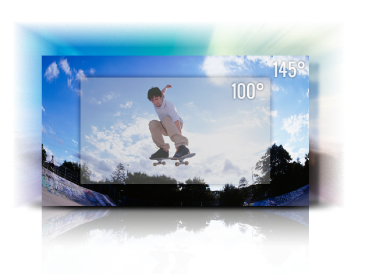 Parking surveillance
You will be satisfied with this parking surveillance even when you park and leave the car. Improved parking mode, which automatically starts 10 minutes after leaving the vehicle. When you continue driving, the camera switches back to mode of recording mode in the loop. With the SONY STARVIS Sensor, you can also enjoy the revolutionary night vision for the front camera and even in complete darkness.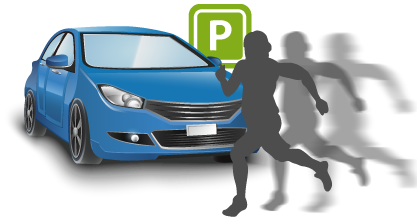 In the case of motion detection of front or rear camera, or at crash, it starts recording of video and locks the file. The camcorder starts recording for 15 seconds before the movement is detected or the impact, what ensures that you will have a record of what happened from the beginning to the end. The condition is that the camera must be powered via a car battery using a set of cables for permanent installation in the DOD DP4.
GPS processor with 10 Hz speed
Integrated with the fastest 10Hz speed GPS, logging more precise data of the vehicle location and speed. Allows you to record your route on a map while watching the videos in DOD player. Currently the fastest GPS update used in camcorders.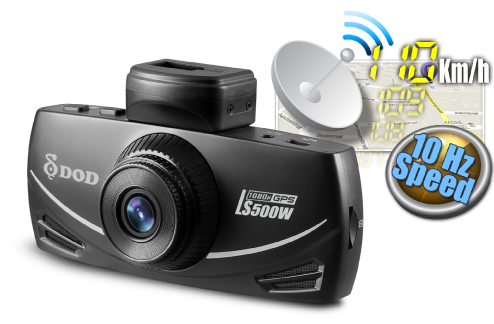 The new version of DOD GPS Player 2.0 with improved user interface is even with better clarity. It displays FULL HD video recordings with real-time data like vehicle speed, gps coordinates, overload.The internet connection shows the current location of the vehicle on Google maps.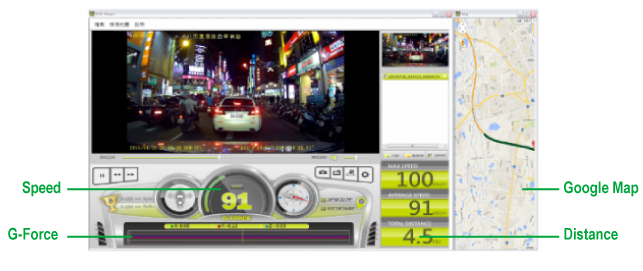 Detection of speed ​​radar
The system reminds you that you are near the location with speed limit and where a radar can be placed, so you can slow down. Avoid traps and have always your drive under control.
* Currently, the system supports the following countries: USA, CA, UK, NO, PL, NL, BE, AU.
Synchronization of time and date
Automatic time calibration, independent of manual time adjustment. With a built-in 10x speed GPS processor, it can accurately calibrate local time and automatically store it in camera memory.
Path analysis
It is a new feature to calculate the distance, time and average speed of your route from point A to point B. For example, you can find the shortest or fastest way to work from your home, based on data from path analysis. It is a very economical and practical way to save time and fuel consumption.
G-sensor protection against impact
In an accident, emergency braking, or tilting of a car, it will automatically protect all stored and current records. With this feature, files will not be deleted or overwritten, even when recording in a time loop.
Manual file lock - SOS protection
In case of an emergency, it allows users to protect an existing file by long pressing the "SOS" button, which keeps the file from the recording loop and protects against being overwritten by other files.
Automatic recording and shutdown
After the vehicle is started, the camera will automatically start recording. When you turn off the engine, the camera turns off automatically without pressing any button.
Loop recording - Cyclic recording
When the storage space on the inserted microSD card is full, it can automatically overwrite older files with new ones, so the files are constantly re-deleted.
Password protection.
Once you set your password, you can prevent others from deleting your videos or photos.
Supports 128GB Micro SD cards
4x higher memory compatibility compared to older camera models, supports up to 128GB micro SD with over 18 hours of recording.
Product specifications:
Video resolution: front camera: 1920x1080 @ 30fps, rear 1920x1080 @ 30 fps
Sensor: SONY STARVIS CMOS sensor
Wide-angle front lens: 145°
Wide-angle rear lens: 140°
Front aperture: f/1.6
Rear aperture: f/1.6
ISO sensitivity: up to ISO 12800
Video format: MOV
Recording media: Micro SDHC/SDXC Class 10 (up to 128 GB)
Audio: microphone and mono speaker (included)
Battery: 3,7V 180mAh Lithium battery
Input power: 5V 1,5A
Front camera dimensions: 112,6 (D) * 61,5 (W) * 33,4 (V) mm
Rear camera dimensions: 75,2 (D) * 26 (W) * 38,8 (V) mm
Front camera weight: 110g
Rear camera weight: 41 g
Operating temperature -20° C ~ 65° C, (-4° F ~ 149° F)
Supplied accessories:
1x Profi car camera for DOD LS500W
1x Rear camera with adhesive holder
1x Interconnecting cable to rear camera (5M)
1x Car charger 12-24V (4M Extension Cable)
1x Holder
1x Manual
Comments
Other Products