Digital spy listening device + 8x zoom + wiretapping
Accessories
+
16GB Micro SDHC Class 10 Kingston U$ 18.70
+
Product description

Digital spy listening device + 8x zoom + wiretapping

Digital spy listening device + 8x zoom + wiretapping up to 100m with to record on inserted micro SD card with support up to 32GB. It is a perfect digital listening device that will be appreciated mainly by nature lovers or fans of spy toys. Professional remote listening device for capturing and recording sounds + monocular with wiretapping at an incredible distance of 100 meters. Great device for listening to distant sounds in nature during a hunt, watching the surroundings and other activities.

The device has a built-in monocular that lets you (except listening) even to watch objects up to 8 times larger, and also has a digital recorder to record captured sounds and you can also play back them later. The records are stored on the inserted micro SD card. Frequency tuning is also available to adjust wide sound receiving, so you can only focus on one source of sound.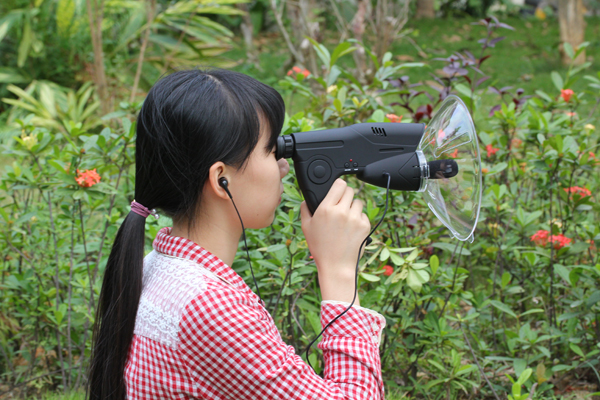 In addition to the device, the package also includes quality stereo headphones for comfortable listening. You can buy equipment at a bargain price online in our e-shop. Take a look at our spy equipment offer and you'll find what you're looking for.
Specifications:
Captures sounds at a distance: 100m max
Built-in monocular: zoom 8x
Headphone jack: 3,5 mm
Power supply: 1x 9V battery
Stereo headphones: adjustable length 160 mm ~ 200 mm
Supports micro SD up to 32GB
Package contains:
1x Listening device
1x Stereo headphones
1x User manua
Comments
Other Products