Digital binoculars with IR - 200m night/400m day - 3X optical and 2x digital zoom
Accessories
+

Product description

Digital binoculars with IR - 200m night/400m day - 3X optical and 2x digital zoom

Digital binoculars with IR - 200m night / 400m day - 3X optical and 2x digital zoom. Unique observations of nature, whether during the day, at dusk, or in total darkness. SD card support for photo or video recording - 2x ZOOM, compact binoculars for night vision with 2x digital zoom and photo and video recording function. Thanks to a light-intensive lens, a sensitive CMOS camera sensor and optional infrared lighting, it ensures unique observations of nature, whether during the day, at dusk, or in complete darkness.

Binoculars from PROFIO ELECTRONCS with the photo and video recording function, you can easily take a photo or start recording a video with a simple press of a button. Your recordings in JPEG, AVI formats are saved on micro SD/SDHC cards up to max. 32 GB. Night vision binoculars can also be used without a memory card. In this case, it is used as ordinary binoculars or night vision devices without the recording function.
Military night vision googles - 3X optical magnification + 2x digital zoom with F 1.4 adjustable aperture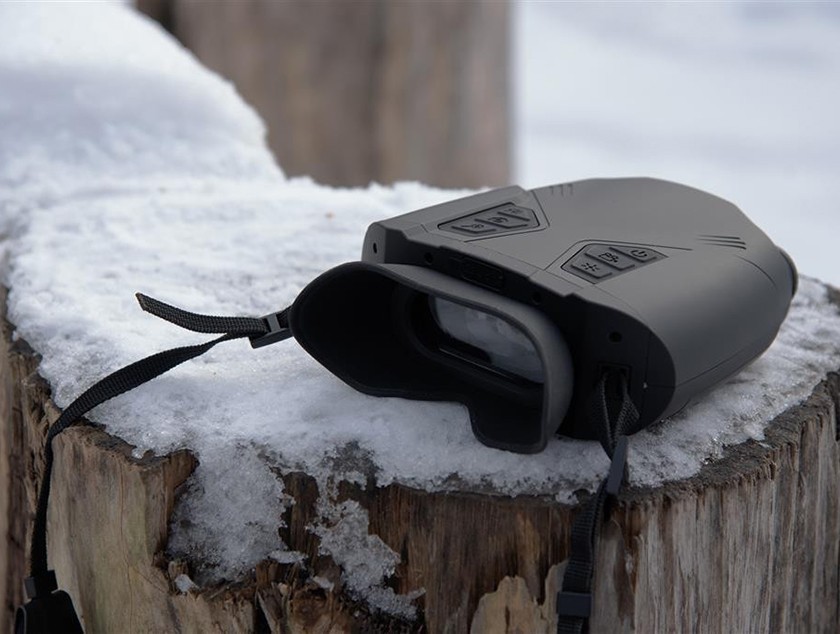 This binocular provides a brilliant and sharp color image in daylight. If observations are made at night, or at dusk, the display will change to a high-contrast black-and- white image. With the 2x digital zoom, even objects at a great distance can be easily observed. The device for night vision is equipped with a large clear LCD display with a resolution of 320x240px.
With this model, you can achieve a visibility range of up to 400 meters during daylight observation. When observing at night, turn on the 2W infrared lighting, which will allow you to observe the desired objects up to a distance of approx. 200 m in complete darkness. Infrared lighting can be set in 7 levels.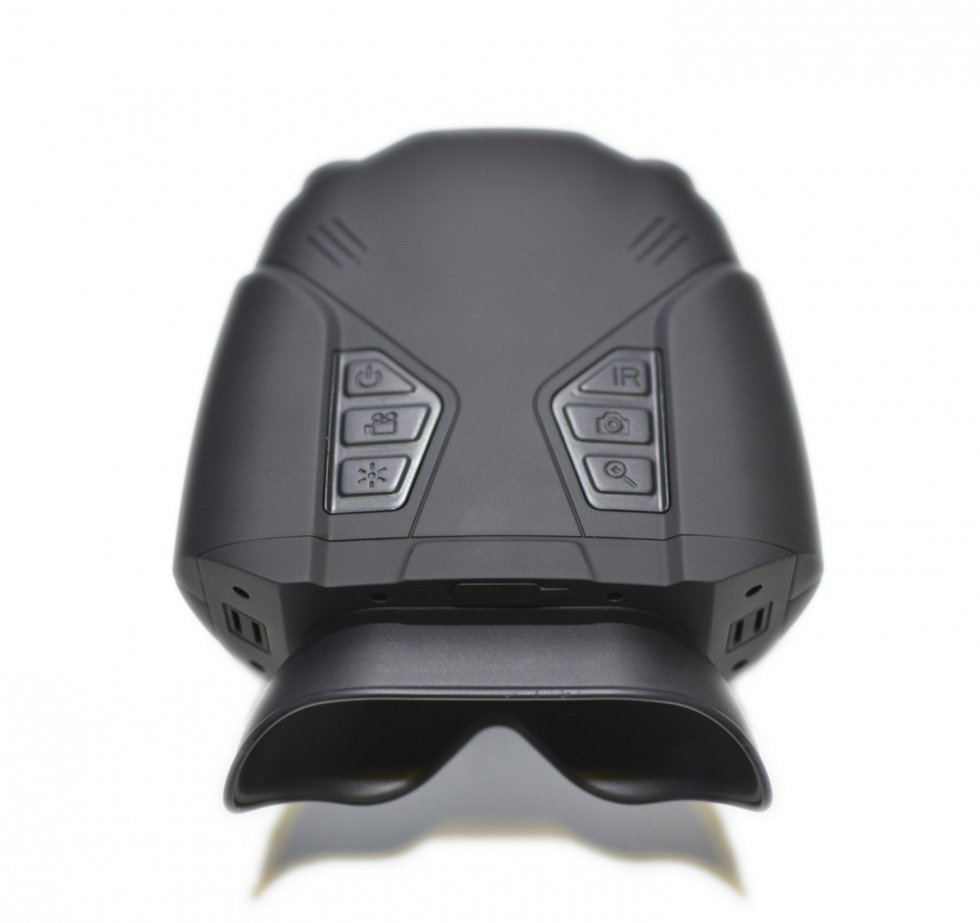 Use the focus wheel on the bottom of the night vision scope for quick and easy focusing. All other functions can be easily selected using the buttons on the top of the device. Large rubberized buttons are easy to find and can be operated optimally even when wearing gloves. The ABS cover is covered with sprayed rubber.

This rubberized surface ensures optimal grip even in difficult weather conditions and is in an elegant black-matt color. A large rubber eyecup with a cut-out for the nose adapts perfectly to the area around the eyes and face and prevents unwanted light to the LCD display.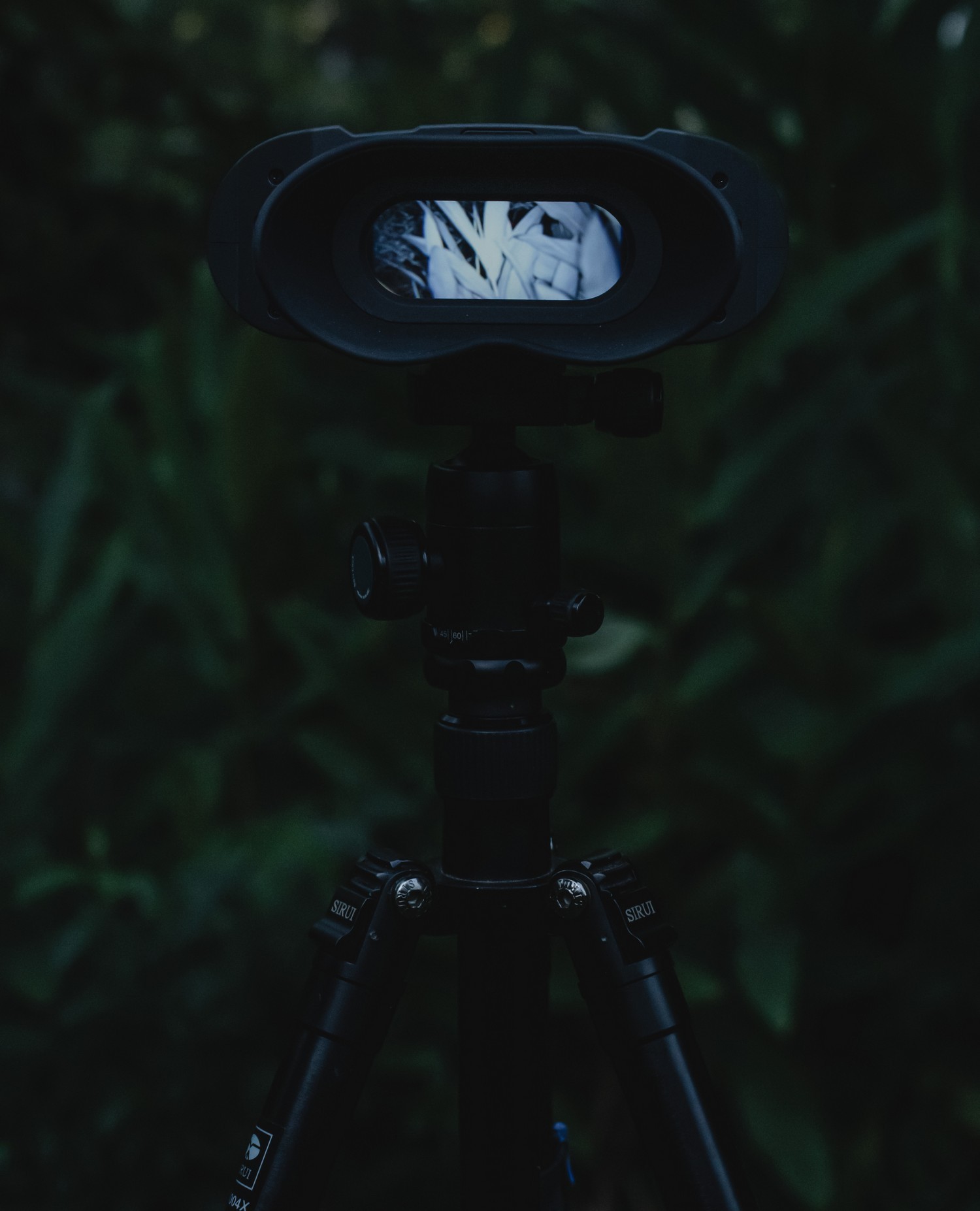 To keep both hands free for monitoring, the binoculars can be mounted on a tripod using the integrated ¼" thread. With the included soft neoprene carrying strap, the night vision binoculars can be worn comfortably around your neck and will be at hand when needed. The night vision comes in a robust hard case that can be carried around the neck or hand using strap. The binoculars are powered by 8 AA LR6 1,5V batteries, which allow an operating time of up to approx. up to 10 hours during the day and approx. up to 6 o'clock at night with activated infrared lighting.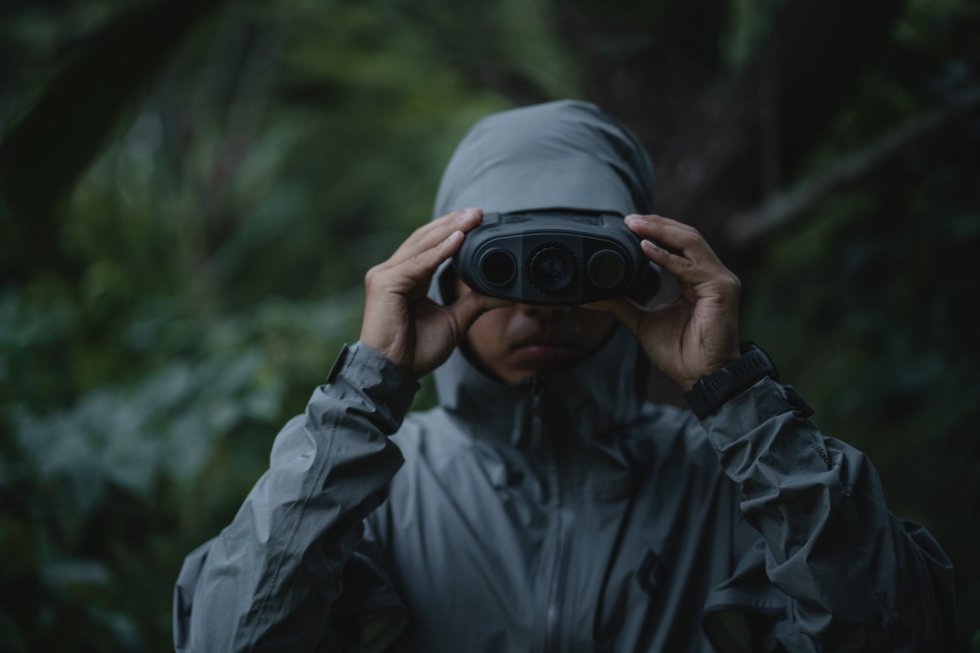 Features:
Digital night vision
Electronic viewfinder
Large aperture F1.4
IR LEDs
Ability to capture images and video
Visible distance: 200 m night/400 m day
Option to zoom in and out (up to 2x)
Automatic switching of day and night dual mode
Button to modify the screen
Tripod adapter
Strap for neck or hand wear
Battery life: up to 10 hours for day use, 6 hours for night use
Ideal for hunting, sports tracking, security, etc.

Specifications:
EVF viewfinder mode
Aspect ratio 4:3
Aperture F1.4 with adjustable aperture Dual day and night mode
Video preview
Visual distance: 200 m night/400 m day
Lens focus: adjust manually
Viewing angle 6.8°
Luminosity: IR LED
External memory: support up to 32GB micro SD card (not included in the package)
Power supply: AA alkaline battery x 8 (not included)
Lifetime up to 10 hours during daytime use, 6 hours during nighttime use
Recording: Yes to micro SD card
Dimensions: 15.9 cm x 14.9 cm x 6.8 cm
Weight: approx. 0,43 kg

Package contents:
1x night vision
1x neck strap
1x case
Comments
Other Products