Clock camera FULL HD + IR LED + WIFI with Meteo station
Accessories
Product description

Clock camera FULL HD + IR LED + WIFI with Meteo station

Clock camera FULL HD + IR LED + WIFI / /P2P with Meteo weather station. The weather station with spy clock is used to detect and display the current temperature, humidity, date and time. This weather station with clock and Wifi IP and security Full HD camera is a multifunctional device that provides up-to-date weather information while ensuring supervision of the monitored area in which it is located. The great camouflage of the device gives the impression that it is a normal weather station, which, however, hides a quality Full HD camera with night vision up to 6 meters.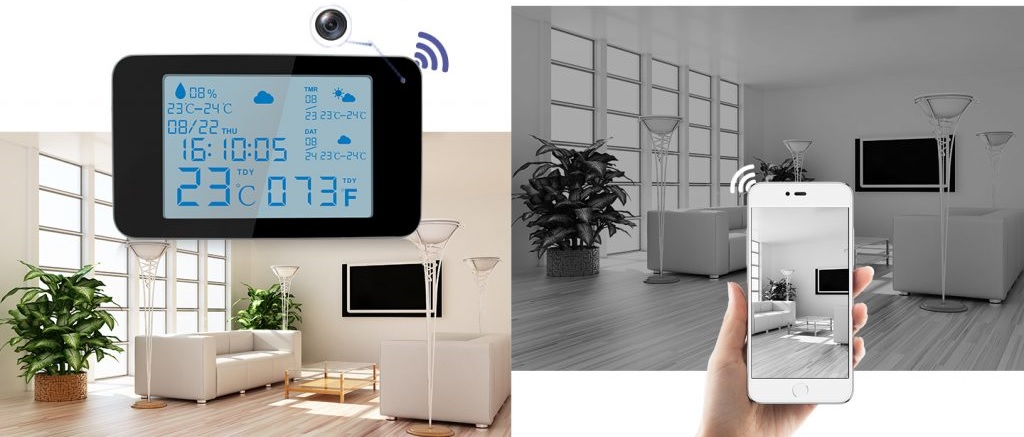 The weather station serves to detect and display the internal temperature, humidity, date and time
The built-in Full HD camera records images in 1920x1080 resolution with audio for high quality video footage. The meteo station offers inconspicuous recording with sound, and using P2P and thanks to WiFi connectivity, you can control individual camera functions and view images in real time anytime, anywhere via a mobile phone and the app called "TinyCam" (iOS, Android).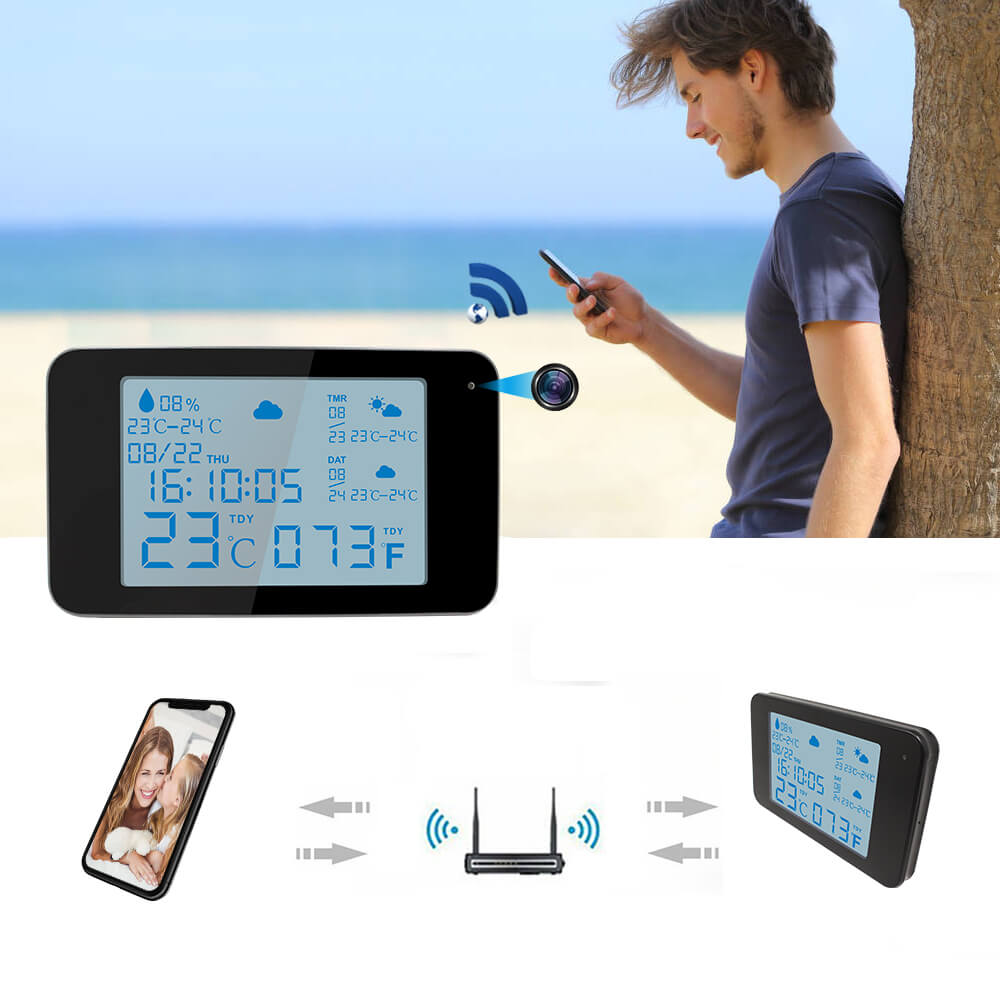 The device is also equipped with a motion detection function, which serves to start recording when capturing movement in space. A great feature with which you wil not miss any important shot, beacuse it captures only images during the activity. The captured records go through H.264 compression to reduce file size and then are stored on a micro SD card supported up to 128GB.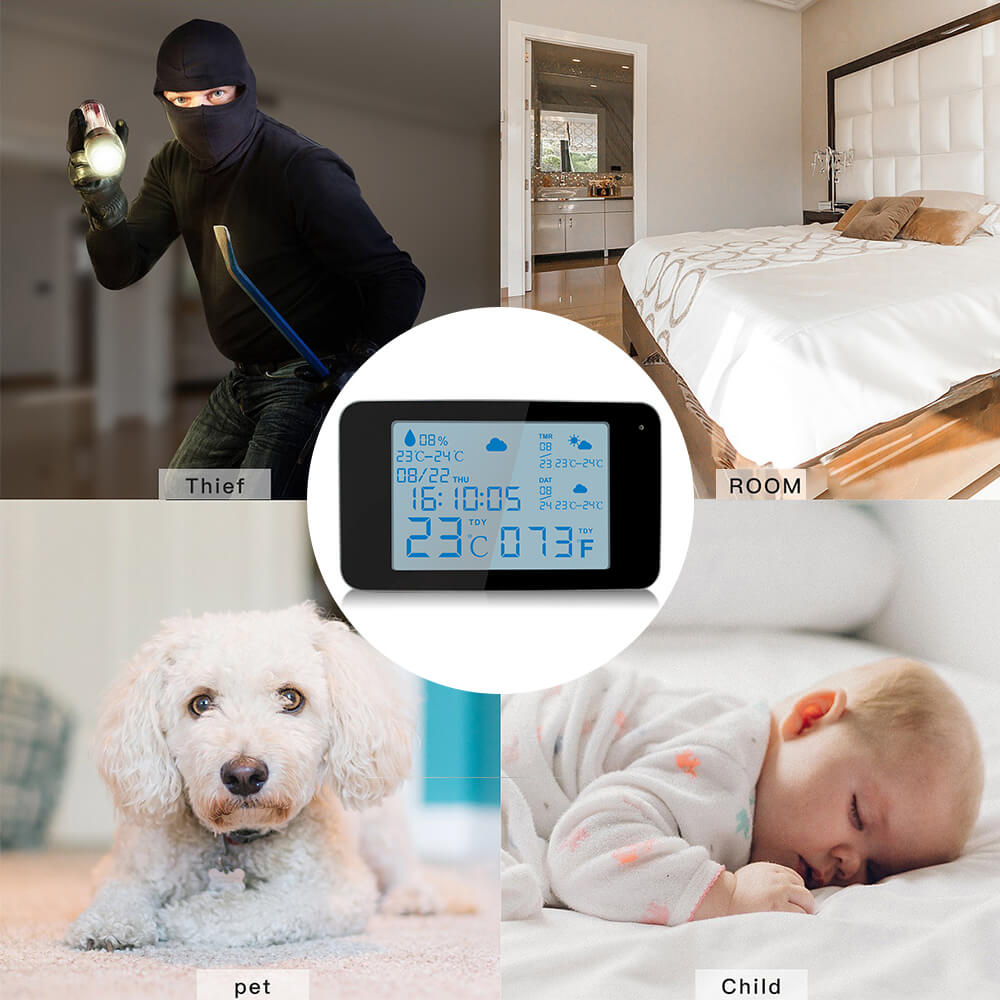 The monitoring station has a built-in rechargeable battery with a capacity of 1800 mAh, what makes the device to be placed anywhere. The battery, when fully charged, provides up to 5 hours of recording, and it can also be connected to a conventional network for continuous operation. There are several uses of this safety device - it serves as a great helper for securing/monitoring of your home, business premises and at the same time it will serve as a weather station.
Features:
FULL HD night vision camera in a weather station
Temperature, humidity, time and date data
WiFi + P2P connection (live stream)
Night vision up to 6m
Motion sensor with notifications
Two-way voice communication
Support microSD card up to 128 GB
The control using the app on your mobile phone
Specifications:
LCD display: 5"
Image sensor: 1.0 Mpx CMOS
Video resolution: 1920 x 1080p Full HD 25 fps
Video format: AVI
Compressed format: H.264
Viewing angle: 110°
Battery: 1800 mAh rechargeable
Working hours: up to 5 hours
Motion detection and advanced notifications
Maximum memory card capacity: 128 GB
Power supply: 2A/5V power supply with USB connection
Operating system: iOS 7 and later, Android 4.1 and later
WiFi: Wi-Fi 802.11 b/g/n, P2P
Dimensions: (L) 145 x (W) 87 mm x (Depth) 47 mm
Weight: 390 g
Package contents:
1x Weather station with HD camera
1x USB cable
1x AC adapter
1x USB Micro SD card reader
1x Manual
Comments
Other Products