CCTV cameras HD IP 4 Mpx Widescreen with 30m IR + 3x zoom grey
Accessories
Product description

CCTV cameras HD IP 4 Mpx Widescreen with 30m IR + 3x zoom grey

CCTV cameras HD IP 4 Mpx Widescreen with 30m IR + 3x zoom grey​ is the very latest technology camera from Xvision featuring 4 megapixel image quality with H.265 compression for reduced bandwidth and storage. This high quality enclosed dome style camera is suitable for internal or external installation and has a motorised 3 X optical zoom lens between 92º fully wide to 23º fully zoomed, the zoom and focus can be controlled from the recorder or remote via software or free apps. The camera can see up to 30 metres in the dark using high powered LEDs.

The 4 megapixel (2288 x 1712) CMOS Sensor supplied in the X2C4000VMT achieves a resolution approximately 9 times that of a conventional camera. This makes it possible to cover 9 times the monitoring area, the image quality being the same. In addition, when captured images are enlarged the detail is much clearer. The H.265 Compression format offers significantly reduced bitrates while still offering the same high quality images provided by H.264 and reduces the storage space required.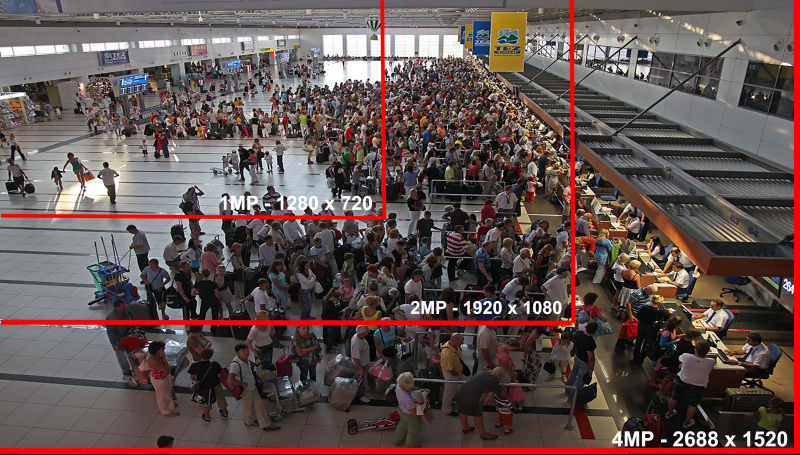 The camera is ONVIF compatible and is supplied with PC and MAC CMS software as well as the XIQCMS mobile app for smartphones and tablets. The camera also features video motion detection as well as PEA (perimeter alarm) and OSC (object care) for alarm triggers, for image control you have wide dynamic range and digital noise reduction as well as all the usual features you would expect for a high end camera. When used with the X2R range of NVRs form Xvision the camera becomes a simple plug and play operation for control and recording.
Features:
At nearly twice the resolution of 1080P images, Xvision 4 Megapixel H265 IP cameras produce incredibly detailed images while using the same bandwidth as 1080P H264 IP cameras. When compared to analogue systems the picture quality is out of this world, with over 12x more visible detail.
Xvision PRO 4 Megapixel Digital Imaging Sensor and DSP
4Mpx (2592x1520) stream at 20 snaps / s, 3Mpx (2048x1536) and 1920x1080 real-time stream at 30 frames / s, using H265, H264 or MJPEG compression
Triple (Main, Sub and Mobile) streams for efficient bandwidth management
Xvision V1A, ONVIF Profile S and ONVIF 2.40 compatible
3.6mm lens for 78° viewing angle
20m IR night vision with Smart IR technology which automatically adjusts IR lighting intensity to ensure the camera captures usable video in dark conditions, even when the object of interest is located close to the IR LEDs
True Day/Night (ICR) and Digital Slow Shutter for 0.0003 lux light sensitivity and accurate colour reproduction when IR leds are off or out of range
Smart Video Analytics for detecting Abandoned objects, Removed objects, Zonal and Line (Trip Wire/Perimeter) breaches
Web interface for live viewing and setup of all features, including Automatic Gain Control, Defog, Digital Noise Reduction, Digital Slow Shutter (0.0003 lux), Privacy Masking, Wide Dynamic Range
Privacy Masking for masking parts of the area being viewed
High Speed (100MB) Ethernet Port, PoE compatible
Tamper resistant design with no exposed cables or lens
High quality metal in white colour
Built in SD Card Slot for stand alone recording.
Weather resistant to IP66
Composite VIdeo Output for Installers VIdeo Monitor & Joystick for manual lens adjustment
Extensive connectivity - Audio Input, Audio Output, Video Output, Reset, Alarm In and Out, Ethernet/POE and 12VDC Connection
Additional information:

| | |
| --- | --- |
| MODEL | X2C4000VMT-W |
| CAMERA TYPE | Dome |
| POWER OVER ETHERNET | Yes |
| WEATHER RESISTANT | Yes |
| VANDAL RESISTANT | Yes |
| MOTORISED PANNING | No |
| AUDIO | Input only |
| DIGITAL ZOOM | Yes |
| DIMENSIONS | 147 X 111.3 mm |
| IMAGE SENSOR TYPE | Sony CMOS sensor |
| IMAGE SENSOR RESOLUTION | 4 Mpx |
| NIGHT VISION | Ir 30m |
| VIEWING ANGLE | 23 ° -92 ° |
| LENS TYPE | 2.6 - 12mm, controlled by an electric motor with 3x optical zoom and autofocus |
| VIDEO RESOLUTION | 4Mpx / 20FPS 3Mpx / 30FPS and 1080P / 30FPS |
| NETWORK CONNECTION | RJ45 PoE |
| WI-FI | No |
| NETWORK PROTOCOLS SUPPORTED | TCP / IP, UDP, HTTP, DHCP, RTP / RTSP, DNS, DDNS, NTP, PPPOE, UPNP, SMTP |
| BROWSER SUPPORT | Internet Explorer |
| MOBILE PHONE SUPPORT | Android, iPhone |
| USER AUTHENTICATION | Yes |
| SIMULTANEOUS VIEWERS | 20 |
| POWER CONSUMPTION | No |
| OPERATING VOLTAGE | 12V |
Comments
Other Products
discount
discount
discount