CCTV 960H with 3x dome cameras with 20m IR + DVR with 1TB HDD
Accessories
Product description

CCTV 960H with 3x dome cameras with 20m IR + DVR with 1TB HDD

CCTV 960H set with 3x Dome camera with 20m IR + DVR with 1TB HDD (The 1TB hard drive will store up to 13 full days of recording). The CCTV camera system is simple to use and contains three dome cameras and DVR recorder with 1TB HDD which will record in HD 960H in real time. DVR is equipped with HDMI, VGA and BNC output for easy connection to a TV or monitor. DVR recorder has an intuitive interface for easy configuration and setting.
The camera uses the latest 960H "higher resolution" of IQ CCTV technology, which delivers the best possible quality using analog CCTV. 960H is the new standard for traditional CCTV systems, which provides 30% greater resolution compared to the systems older than 1 year and 500% higher resolution than 5 years systems.

The camera has also available IR night vision distance of 20 meters and is waterproof (IP65). It is also equipped with vandal-proof metal version (protection against possible damage). The cameras, which are part of the system, are dome cameras HD960H IQC960V-K with mini size 92x81x92 mm are intended for mounting on a wall or on the ceiling of interior and are very small and inconspicuous, making it ideal for use in various areas.

The recorder allows you in case you need to involve other camera. Easy to install cameras "Plug and Play" only connect one cable for power supply and video on one camera and can record. Simple operation with a simple menu on the screen that can be controlled through USB mouse, touch panel, remote control via a network. As soon as you connect the set to a network (the Internet), you can easily view and control from anywhere in the world using a smartphone (Android), tablets, PC and Mac (iOS) computers. IQCMS The application for tablets and smartphones you can download for free trade in applications and use the "Snap Shots" setting up e-mail alerts that are really useful.

Advanced Motion Detection feature will ensure you start recording (record) if recorded any movement in the monitored object. This is a digital motion detection, therefore no classic motion sensor, which is much more accurate and efficient. Using the supplied software you can set on which days and hours, this function is activated.

Excellent performance / price ratio. One of the best selling sets.
Features
● Complete CCTV camera system
● Bullet camera in a durable metal design, weather resistant with HD 960H resolution, 20m IR night vision and 50 ° wide-angle lens
● HD DVR 960H recorder for 4 cameras with 1TB capacity of the record (up to 20 days recording with one camera) and remote access via smartphone, tablet, PC or Mac
● 18 m cable for connecting (included)
● DVR is equipped with HDMI, VGA and BNC output for easy connection to compatible TV or monitor
● Designed for easy installation DIY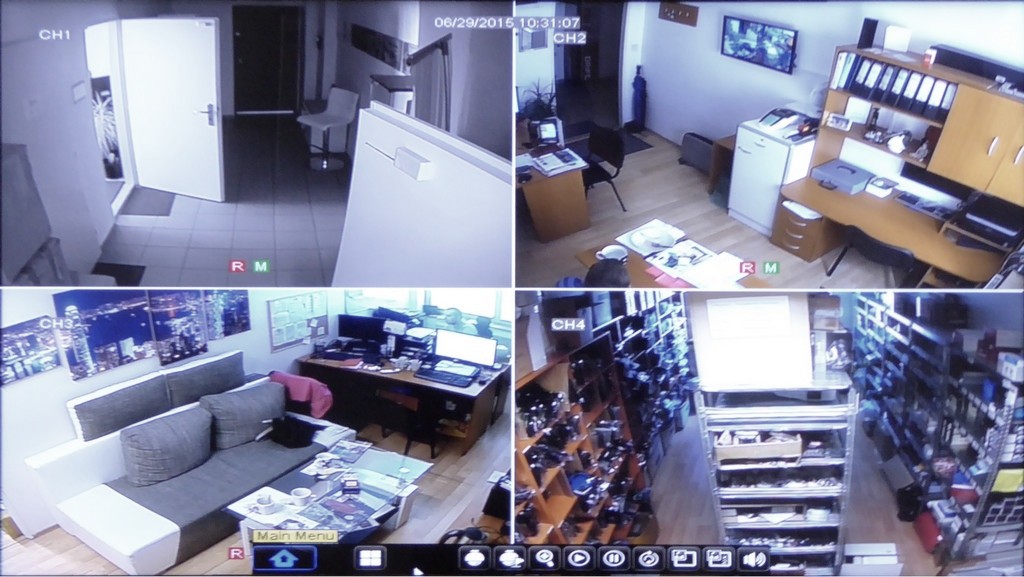 Technical specifications:
Brand: IQCCTV
Model Number: K-IQC960V
Style: Mini-dome camera
Waterproof: Yes (IP65)
Anti-vandal: Yes
Mounting: on wall or ceiling
Dimensions (WHD in mm): 92x81x92 mm
Weight (kg): 0,26
Sensor type: 1/3 "color CMOS
DSP Type: Digital DSP IQ1
DSP Function: Automatic electronic shutter, automatic control of noise, backlight compensation
Resolution: HD960H
Minimum illumination: 0.1 Lux (0 Lux IR on)
Night Vision: 20m IR night vision
Lens Type: Fixed
Lens Size: 4 mm
Viewing angle: 50 °
Operating voltage: 12V DC
Recommended Power: 12V DC 1250 mA
Video Output: BNC socket
Audio Output: No
Power supply: DC socket
RS485 Control: No

DVR:
Brand: IQCCTV
Model number: IQR960D4
Video Compression: H.264
Video system: NTSC / PAL
Video Input / Output: 4 CH input, 1 BNC, 1 VGA, 1 HDMI
Audio input / output: 2 CH Input, 1 CH output (RCA)
Display resolution: NTSC: 960x576 @ 25fps, NTSC: 960x480 @ 30fps
View functions: Single, Quad, S.E.Q
Recording Resolution: PAL: D1 mode: 360x288 (CIF), 720x288 (HD1), 720x576 (D1), 960H mode: 480x288 (WCIF), 960x288 (WHD1), 960x576 (WD1) NTSC: D1 mode: 360x240 (CIF) 720x240 (HD1), 720x480 (D1), 960H mode: 480x240 (WCIF), 960x240 (WHD1), 960x480 (WD1)
Recording speed: PAL: D1 Mode / 960H mode: 25fps, NTSC: D1 Mode / 960H mode: 30fps
Recording Mode: Continuous / Manual / Motion detection
Playing Channels: 1/4 Ch
Frame rate: PAL: D1 Mode / 960H mode: 25fps, NTSC: D1 Mode / 960H mode: 30fps
DVD - RW: No
Sensor & Alarm I / O: No
IR Extender Port: No
Network: LAN, DHCP, Dynamic IP and DDNS
HDD Interface: 1 SATA HDD, up to 4 TB
Multiplex Operation: Live display, recording, playback, backup and network
USB: 2 x USB (for mouse and backup / upgrade)
PTZ Control: Built-in RS485, supports Pelco - P and Pelco - D
Mobile Surveillance: IQCMS - Android and iOS
CMS Software: CH 64, 256 pcs DVR, no limit for user
Web browser: Internet Explorer, Safari, Chrome, Firefox
VGA: 800 * 600, 1024 * 768, 1280 * 1024, 1440 * 900, 1920 * 1080
HDMI 1080p
Power supply: DC 12V 2000 mA
Fan: No
On/Off Switch: No
Remote control: Yes
Rack Mount size in (U): 1
Dimensions (WxHxD): 301x46x210mm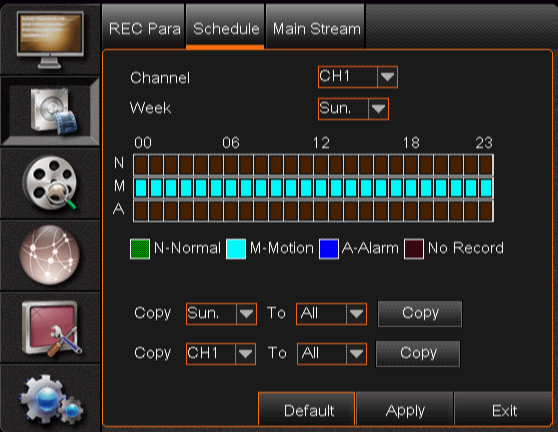 By using the settings the camera system makes it very easy to configure how the cameras are recording, ie whether or when motion is detected. continuous recording. You can set exactly what day, what hour of cameras thus such behavior. If you need during working hours continuously monitored by the operator to adjust the 8:00 to 17:00 cameras will record continuously from 17:00 only when motion is detected (possible disruption of the space) to the system can alert you via email. When viackamerových system can be set as follows each camera, which gives you a great variability in the monitoring.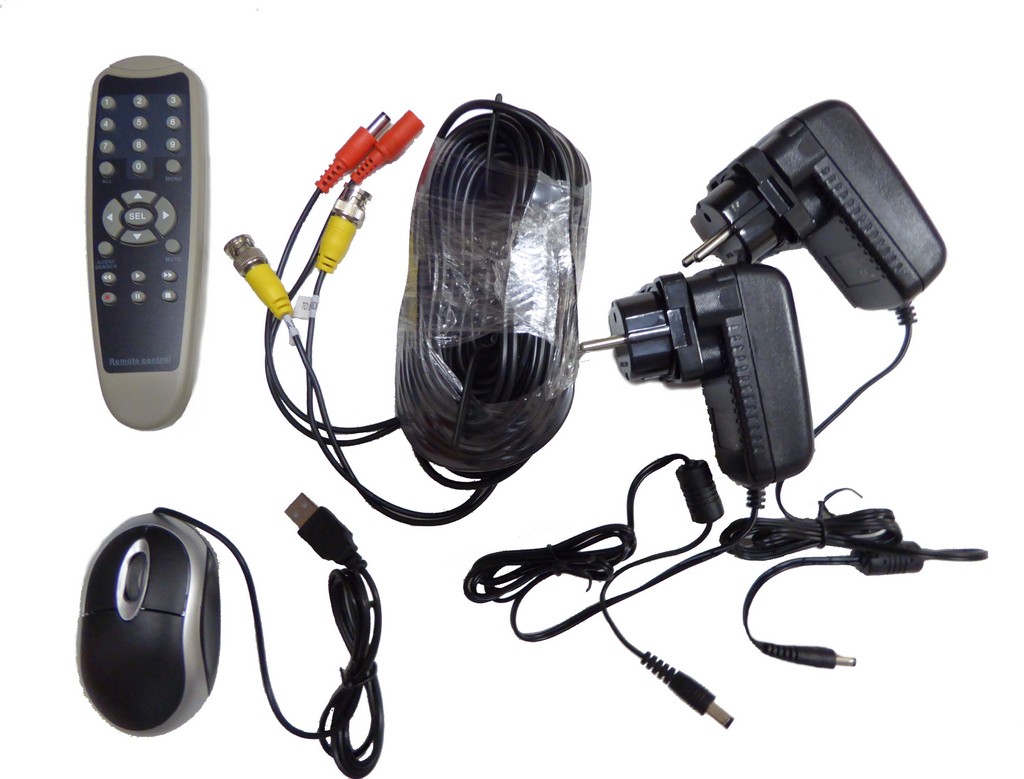 Package Contents:
3x CCTV Camera - IQC960V - K
1x DVR with 1TB HDD - IQR960D4
3x 18 m BNC cable for power supply
4x Power adapter
1x USB mouse
1x Remote Control
3x Set of screws
1x Manual
If you are interested in
an individual solution camera system,
the selection of cameras and DVR respectively. NVR and other accessories
according to your needs,
please contact us by email at:
[email protected]
Why Buy Safety Cameras from us?
We are the official distributor of leading European brands and CCTV IQ X-VISION and vendor safety technology with years of experience. Our requirements regarding the processing and refinement of products offered consult directly with the manufacturer. Every product that we include in the sale of entrance passes quality control, and only then is included in our offer.
From our tests show that sold us the technique is more efficient, more reliable and has a longer life than competing products. In case of unexpected technical problems we try to solve the situation urgently as possible towards customer satisfaction. Warranty 24 months on goods and professional advice are of course.
Comments
Other Products