Camera set - 1x camera 720P with 30 m IR + hybrid DVR + 1TB HDD
Accessories
+

40 m cable for video / audio / power U$ 56.10
+

80 m cable for video / audio / power U$ 95.70
Product description

Camera set - 1x camera 720P with 30 m IR + hybrid DVR + 1TB HDD

Camera set - DVR hybrid recorder AHD 720P/960H with 1TB HDD and 1x camera 720P with 30 meters IR night vision. CCTV surveillance system is easy to use and includes 1 AHD 720P camera and hybrid DVR recorder AHD (possible to connect 3 more cameras) 960H/720P, which will record in HD 720P/960H in real time. For storing of the camera records you have available 1TB hard drive suited for 24-hour operation (a hard disk up to 4TB can be connected).

DVR recorder AHD (HD720p, 960H) - 4 channel, has a mobile, PC access (via Internet). The hybrid recorder (HD720P, 960H) - offers the most modern digital recording via a standard cables. The unit can record the camera image either from 720P/960H cameras, or from conventional analog cameras and automatically captures it in the same format as the camera. The recorder also has 4 audio inputs and 1 output if you wish to add a sound.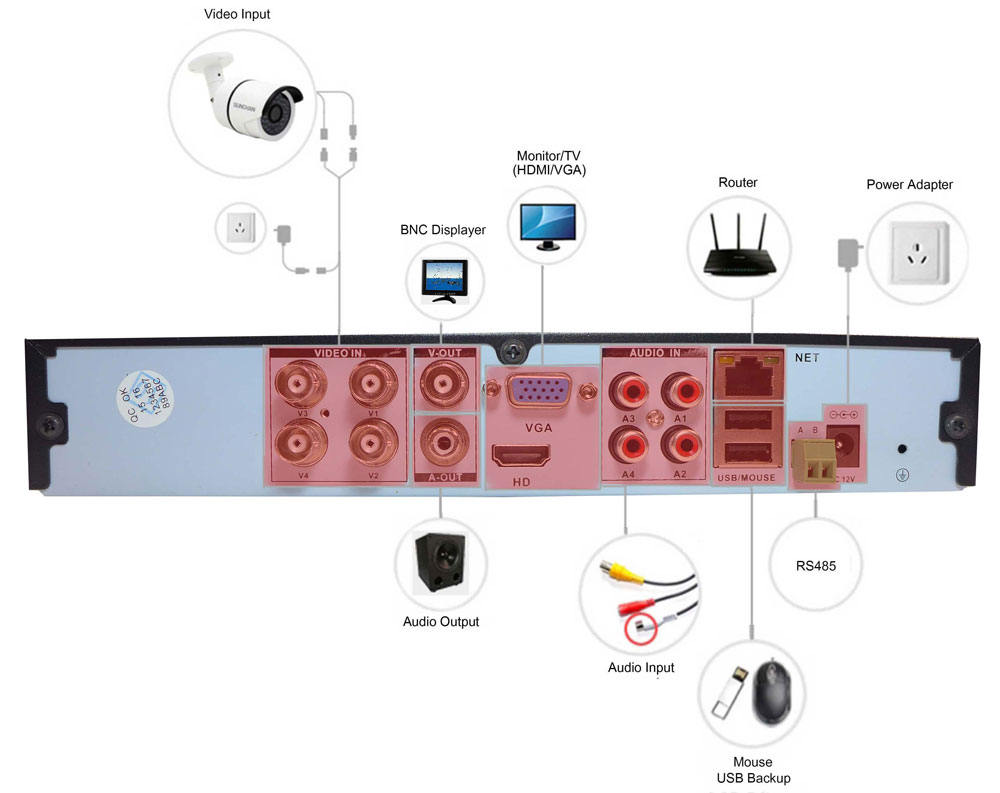 DVR unit can record all 4 cameras simultaneously at 25 fps in 720P/960H resolution. DVR provides output to a monitor using VGA or HDMI. Easy installation of cameras "Plug and Play", just connect one cable for power supply and video to one camera and you can record. Easy operation with simple on-screen menu that you can control with a USB mouse, touchpad and remote control via the network.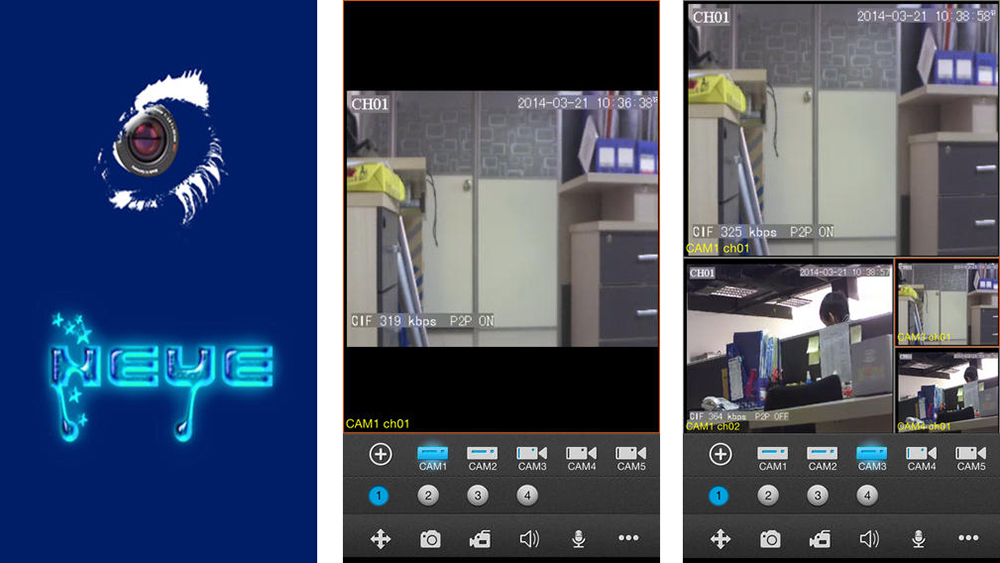 As soon as you connect the set to a network (the Internet), you can easily view and control from anywhere in the world using a Smartphone (Android), tablet, PC and Mac (iOS) computers. With application called N_EYE you can set up remote devices on smartphones or tablets, and you will get e-mail alerts that are really useful. You will certainly appreciate alerts when there is some disruption of area monitored by security cameras.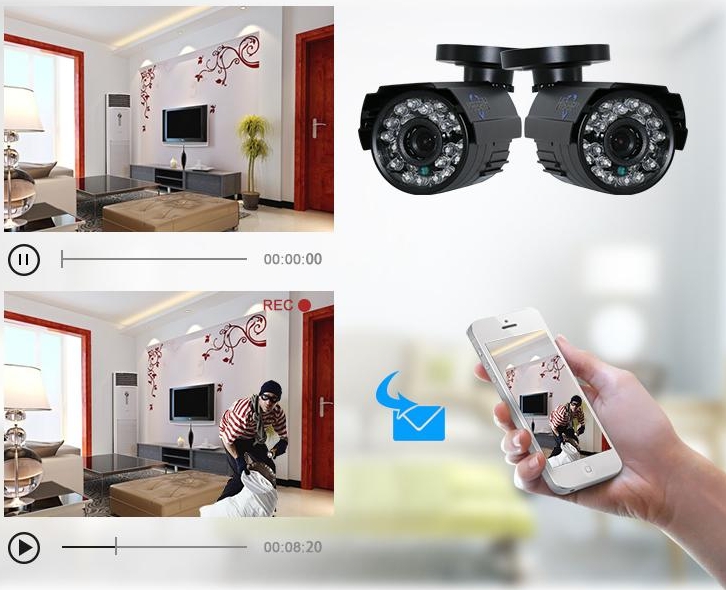 Security camera AHD 720P + IR LED + anti vandal, is security camera that has built-in IR infrared night vision that shines in complete darkness up to 30 meters. The camera is equipped with varifocal lens manually adjustable to set the angle between 17-74 °, which captures perfect image for your recording. After dark or in low light conditions, the camera automatically switches from the color scanning to black-white mode. Automatic IR filter produces quality color images during the day and clear images at night in combination with IR LED illumination.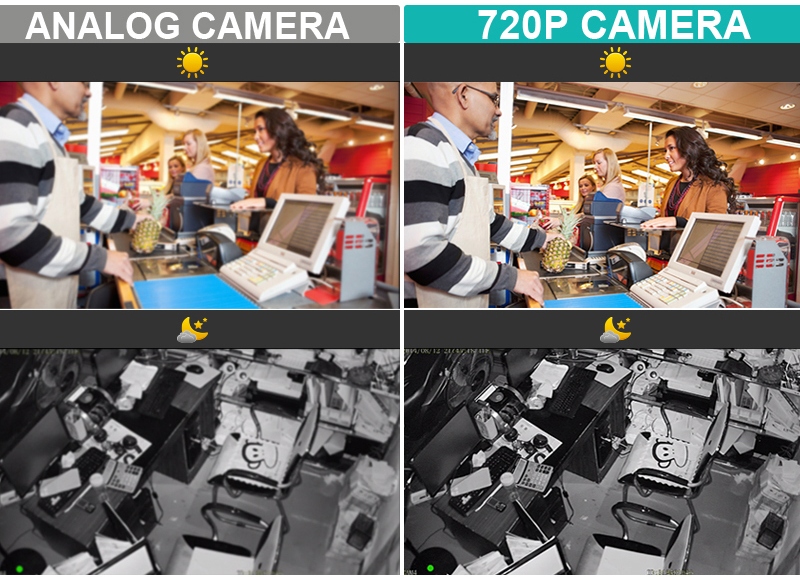 Security camera is ideal for indoor and outdoor use and comes with a robust compact design. AHD technology allows the use of existing cabling used by standard CCTV cameras.

Our security cameras for sale are certified IP65 (what guarantees their resistance against to dust and waterproof).

OAHD cameras with HD 720p are designed to not contain unnecessary features which are not used in 90% of installations. The priority was to achieve quality images and parameters at the best price in the market. Our security cameras for sale are certified IP65 (what guarantees their resistance against to dust and waterproof).
Features:

Complete CCTV camera system


Cameras in a durable metal design (anti vandal) for indoor and outdoor use (IP65)


With 720P/960H resolution, 30m IR night vision and varifocal lens that scans at an angle of 17-74 °


Hybrid DVR recorder AHD 720P/960H supports remote access via Smartphone, tablet, PC or Mac


DVR is equipped with HDMI and VGA output for easy connection


Designed for easy installation DIY
Technical specifications:
Model: OAHD-D4
Video compression: H.264
Video system: PAL / NTSC
Video input/output: 4 Ch. inputs, 1 VGA, 1 HDMI, 1 BNC
Spot output: No
Audio input/output: 4 Ch. inputs, 1 Ch. output (RCA)
Display resolution: PAL: 960x576 / 1280x720 @ 25fps
Display function: Single, Quad, SEQ
Recording resolution: PAL: 960x576 (960H), 1280x720 (720p)
Recording speed: PAL: 960H Mode / 720P Mode: 25fps
Recording mode: Continuous / Manual / Motion Detection
Playback channels 1/4 Ch.
Frame rate: PAL: 960H Mode / 720P Mode: 25fps
DVD-RW: No
Sensor and Alarm I/O: No
IR Extender Port: No
Network: LAN, DHCP, Dynamic IP and DDNS
HDD Interface: 1 SATA HDD up to 4TB
Multiplex operation: Live view, recording, playback, backup and network
USB: 2 x USB (for mouse and back-up/upgrade)
PTZ control: Yes
Mobile Surveillance: N_Eye - Android and iOS
CMS Software: Yes
Web browser: Internet Explorer, Safari, Chrome, Firefox
VGA: 800x600, 1024x768, 1280x1024, 1440x900, 1920x1080
HDMI 1080p
Power supply: DC 12V 2000 mA
Fan: No
On/Off Switch: No
Remote control: Yes
Dimensions (WxHxD): 255x42x220mm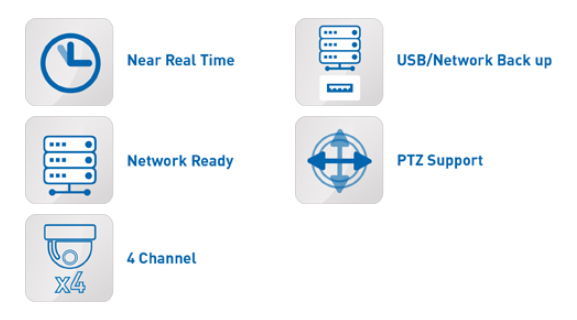 The camera parameters:
Model: OAHD-VV
Type: Security Camera
Resolution: 720P
Weather-resistant: Yes (IP65)
Resistant to damage (Antivandal): yes
The mounting method: wall or ceiling
Sensor type: 1/4 "CMOS Color
DSP Type: HDCCTV DSP
DSP Function: Backlight compensation
Minimum illumination: 0.1 Lux (0 Lux IR On)
Night Vision: 30m IR Night Vision
Lens Type: Varifocal
Lens size: 2,8 to 12,0 mm
Viewing Angle: 17-74 °
Operating voltage: 12V DC
Power supply: 12V DC 300 mA
Video Output: BNC socket
Audio Output: No
Dimensions (WHD in mm): 133x85x133
Weight (kg): 0,60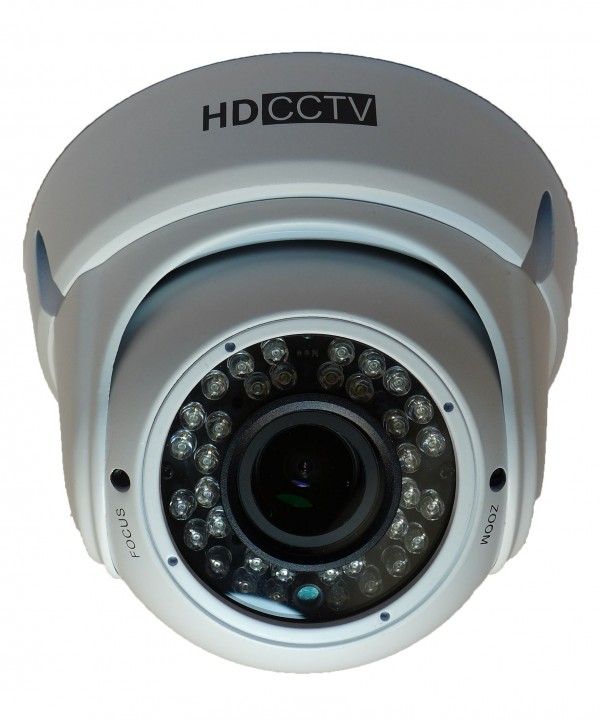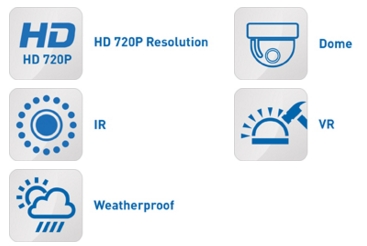 Contents:
1x Camera OAHD-VV
1x 20 m cable for video/audio/power
1x Installation material (screws, dowels)
1x power adapter of camera 12V 300mA
1x DVR OAHD-D4
1x 1TB HDD
1x Power Adapter DVR
1x USB mouse
1x Remote Control
1x Installation CD
1x Manual
If you are interested in
an individual solution of camera system,
the selection of cameras and DVR respectively NVR and other accessories
according to your needs,
please contact us by email at:
[email protected]
Why to buy security cameras through our e-shop?
We are the official distributor of leading European brands of IQ CCTV and X-VISION and seller of safety technology with years of experience. Our requirements regarding the processing and improving of products we consult directly with the producer. Each product included in the sale will pass the entry quality control and only after that is ranked to our offer.
Our tests show that our sold technique is more efficient, more reliable and has a longer life compared to competitive products. In case of unexpected technical problems, we try to solve the situation urgently towards customer satisfaction. Of course we provide a warranty of 24 months on goods and professional advising.
Comments
Other Products