Bug detector + spy camera + GPS devices with GSM signal 2G/3G/4G/5G
Product description

Bug detector + spy camera + GPS devices with GSM signal 2G/3G/4G/5G

Handheld Bug detector + spy camera finder + GPS devices with GSM signal 2G/3G/4G/5G/LTE. Highly sensitive portable detector. Has a built-in rechargeable battery with a capacity of 1600mAh with a lifespan of up to 35 hours. It can capture magnetic fields and electromagnetic waves - you will discover hidden wifi cameras, GPS locators, listening devices or devices with a GSM signal. Its original digital magnetic field detection technology can effectively detect weak magnetic field signals. The detection distance of the magnetic field measurement is up to 200 mm. The package also includes a practical LED light with an adjustable gooseneck.
Portable spy device (bug, cameras, gsm device) detector handheld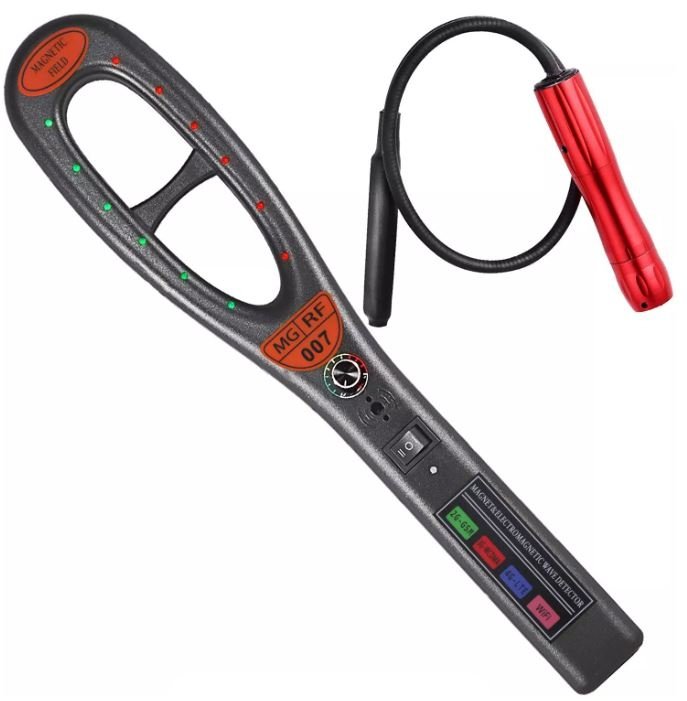 This detector is used for personal privacy. It is easy to use and you will quickly find the hidden lens of the wifi camera and track down the signal of the hidden cameras and listening devices. It detects the GPS locator on your car and tracks the source of the wifi and GSM signal. The detector has a built-in rechargeable battery, which is charged via a USB cable. The detector is lightweight, so you can take it with you everywhere, whether on business trips or vacations - secure your privacy from unwanted surveillance.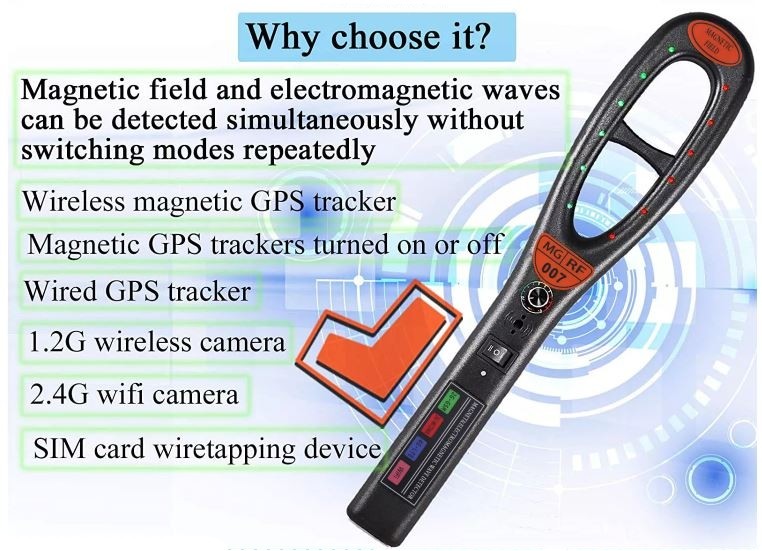 It will certainly find its use in hotels, boarding houses, offices, changing cabins, public toilets, gyms, etc. Spy cameras can be hidden in a variety of things, such as light bulb, smoke detector, wall clock, lamp, TV, alarm clock, weather station, speaker, pen, keychain, glasses or other objects. Thanks to this device, you can effectively prevent eavesdropping, secret filming and misuse of personal information. The detector will surely be appreciated by people who often use bank cards, often travel and sleep in hotels, beautiful women who protect their privacy from paparazzi. You can also use it for business meetings, secret meetings, exams and interviews.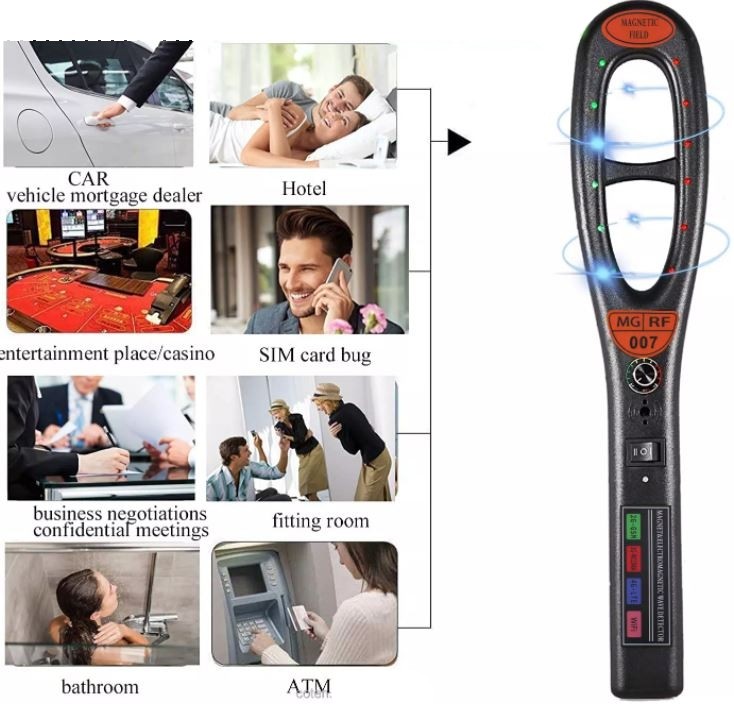 The detector has light and sound signals, thanks to which you can quickly detect a spy device. You will easily and quickly find the GPS locator hidden in the car. Thanks to the adjustable wheel, you can set the detection sensitivity.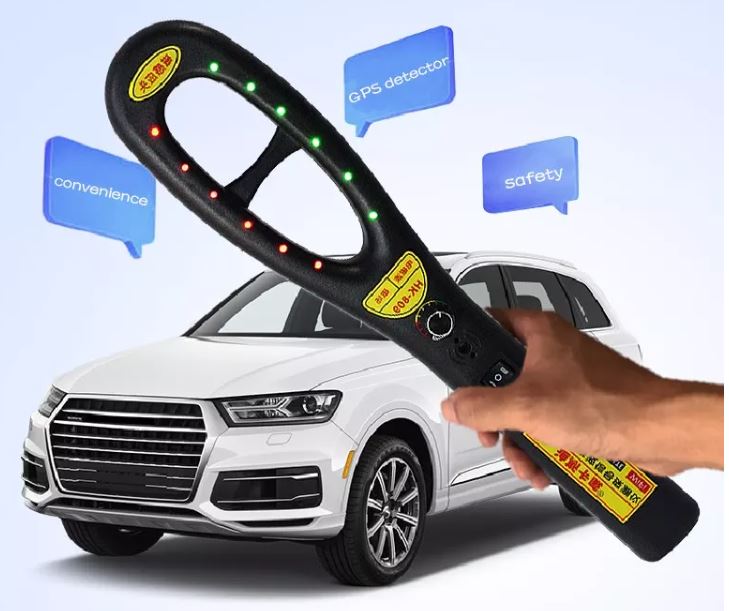 Specifications:
Frequency range: 1MHz-2.8GHz
Detection dynamic range:> 72Db
Sensitivity: .030.03mv
Detection range: at 2.4GHz 15m2; at 1.2GHz 26m2; mobile signal GSM/2G/3G/4G 5-25m2
Magnetic detection: 50mm-300mm
Indication: LEDs and beeps
Power supply: lithium rechargeable battery 3,7V with a capacity of 1600mAH
External LED light: yes
Operating current: 45-75mA
Endurance: up to 20-35 hours
Material: ABS
Weight: 275g
Dimensions: 380x12x10mm
Package contents:
1x Detector
1x LED light with flexible neck
1x USB/DC charging cable
1x Manual
Comments
Other Products