Bug detector RF PROFI - GSM 3G/4G LTE + Bluetooth + WiFi
Product description

Bug detector RF PROFI - GSM 3G/4G LTE + Bluetooth + WiFi

Bug detector RF PROFI - GSM 3G/4G LTE + Bluetooth + WiFi. Hidden camera finder and bug sweeper can find hidden devices over long distances. The best bug detector for locating GSM 3G/4G LTE, Bluetooth and WiFi signals represents a new class of anti-tracking devices. Such bugs, especially Bluetooth-type, are actually undetectable by conventional radio frequency search engines, because of the low level of radiation and the type of modulation. This GSM detector uses a separate channel with high (2,44 / 5,39 Ghz) frequency and sensitivity to find Bluetooth and Wi-Fi devices. The detector then processes the demodulated signal to determine what protocol was found. Of course, the detector also finds "classic" bugs (GSM, 3G, 4G, 5G DECT, etc.). The innovative device is not just an improved model of conventional detectors, but a brand new and revolutionary search engine.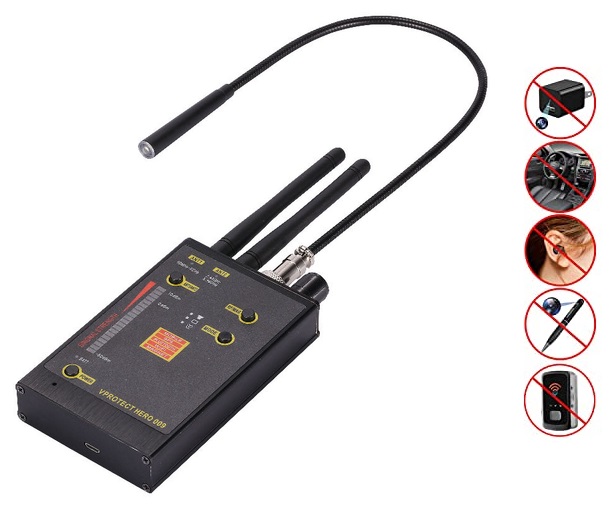 The detector is equipped with main functions
The broadband antenna (for the ANT1 socket) provides wider coverage, especially at lower frequencies, allowing the detection range of conventional VHF/UHF detectors to be increased while maintaining superior sensitivity in higher bands (GSM, Wi-Fi, Bluetooth).
Antenna (for ANT2 socket) with 2 to 4 times more sensitivity for all sources above 2GHz (Wi-fi 2.4Ghz, 5GHz, Bluetooth, Wi-Max, LTE High, etc.) The unit can find the source of the broadcast signal and accurately locate it.
Magnetic signal detector - install the magnetic probe, turn on the device and press the magnetic detection button. After the LED indicator lights up, start searching. When a magnetic source is found, a white LED lights up and you can hear the audio signal.
RF/MAG switch - after swithing the option MAG, set the sensitivity to maximum. Install the magnetic antenna and adjust the potentiometer. Due to high sensitivity, the detector may be affected by geomagnetism and iron objects. Use the rotary knob to set the sensitivity to the specified environment.
The ANT1 channel (1) is used to detect a wide range of 50-6000 MHz frequencies to search for all types of transmitters in rooms, cars, devices worn on the body, telephones or other types with different modulation methods, including the following bands: VHF, UHF, GSM 900/1800/1900 MHz, 3G, Wi-Fi, Wi-Max, 4G (LTE), etc.

The second ANT2 channel (2), marked as "2,44 GHz 5,39 GHz", is used to detect only Bluetooth and Wi-Fi (or other signals with the same frequencies), but with a higher sensitivity. A classic search method is to use an ANT1 antenna, i.e. 50 - 6000 MHz, first to cover a wide area of frequency ranges. Then the area scan procedure should be repeated with ANT2. Using the ANT1/ANT2 buttons you can switch between ANT1 and ANT2.
MODE - after pressing you can set the desired display mode. SOUND SIGNALIZATION - if any source is found, you will hear from speaker a sound signalization. VIBRATION MODE - it alerts you by vibrations when the source is found. SILENT MODE - no sound and no vibrations. The sound signaling allows for quick search, and according to the specific sound the experienced operator can recognize the source.

Using the detector in everyday life
Searching for bugs and gps sensors in a car or office.
If you suspect that someone illegally listens to your phone, for example you can notice that the phone sends a lot of signals even when it is only on standby.
Detecting radiation levels from roof broadcasting stations in your work area or residential buildings.
The checking if the video cameras are aimed at you and are monitoring your activity.
When searching for wireless signals, base stations for phones, etc.
Detecting the level of hazardous microwave radiation.
Searching for suspicious wireless signals.
Checking of toilets, hotels, entertainment businesses, if there are some spy devices in the space.
Usage info:
Because of high sensitivity of detector, turn OFF the communication and digital devices nearby. When working close to large radiation source, the data may be distorted.
If the device emits a signal but there are no radiation sources nearby, there are 3 possibilities
1. Your own communication device is paired with the base station.
2. The suspect source is very close.
3. You are too close to the wireless router
Specifications:

Communication range: 50MHz - 5,4GHz
Dynamic range detection: -50dBm-10dBm
Detection sensitivity: <0.03mw
Detection power: 1,2GHz wireless camera: 36m² // 2,4GHz: 25m²
Mobile signal: 2G, 3G, 4G 25m²
Magnetic: 50mm ~ 150mm
Indication method: 20 LEDs - light/sound indication
Battery: 3,7V 1500mAH
Working hours: 20 - 45hod.
Dimensions: 12,5 cm (height) x 5,2 cm (width) x 2,2 cm (thickness)
Weight: 195g
Package contents:
1x Detector
2x Antenna
1x Magnetic probe
1x Micro USB cable
1x Manual
Comments
Other Products