Borescope FULL HD camera waterproof + 4,3" display + 6xLED
Accessories
+

16GB Micro SDHC Class 10 Kingston U$ 18.70
+

Product description

Borescope FULL HD camera waterproof + 4,3" display + 6xLED

Borescope FULL HD camera waterproof IP67 + 4,3" display + 6xLED lights. Thanks to its miniature dimensions ( 5,5 mm), the camera can fit anywhere you need. The endoscopic camera has a plastic flexible cable with a length of 10 meters, IP67 protection + case. This inspection camera offers video recording in FULL HD resolution - 1920x1080 pixels and photos in 2.0 MP resolution. The color display has a size of 4,3 inches, it has a built-in rechargeable Li-ion battery with a capacity of 2800mAh and lasts up to 4 hours of operation. The image on the screen can be rotated as needed.

Boreoscope camera is waterproof, with 6 LED lights at its end for working in dark places. LED lights are with adjustable light intensity, as needed. The camera cable is 10 meters long, is made of durable plastic and metal wires, is easily adjustable - flexible, but still holds the set shape well. The record (video and photos) is stored on a micro SD card with support up to 128GB. The accessories also include the camera extensions - you get a side mirror for a camera view to hard-to-reach places, hook and magnet for capturing objects. All components are neatly stored in a hard case.
Endoscope - a great helper in repairing cars, appliances, drains, air conditioning, pipes, tubes etc.
Camera attachments are also included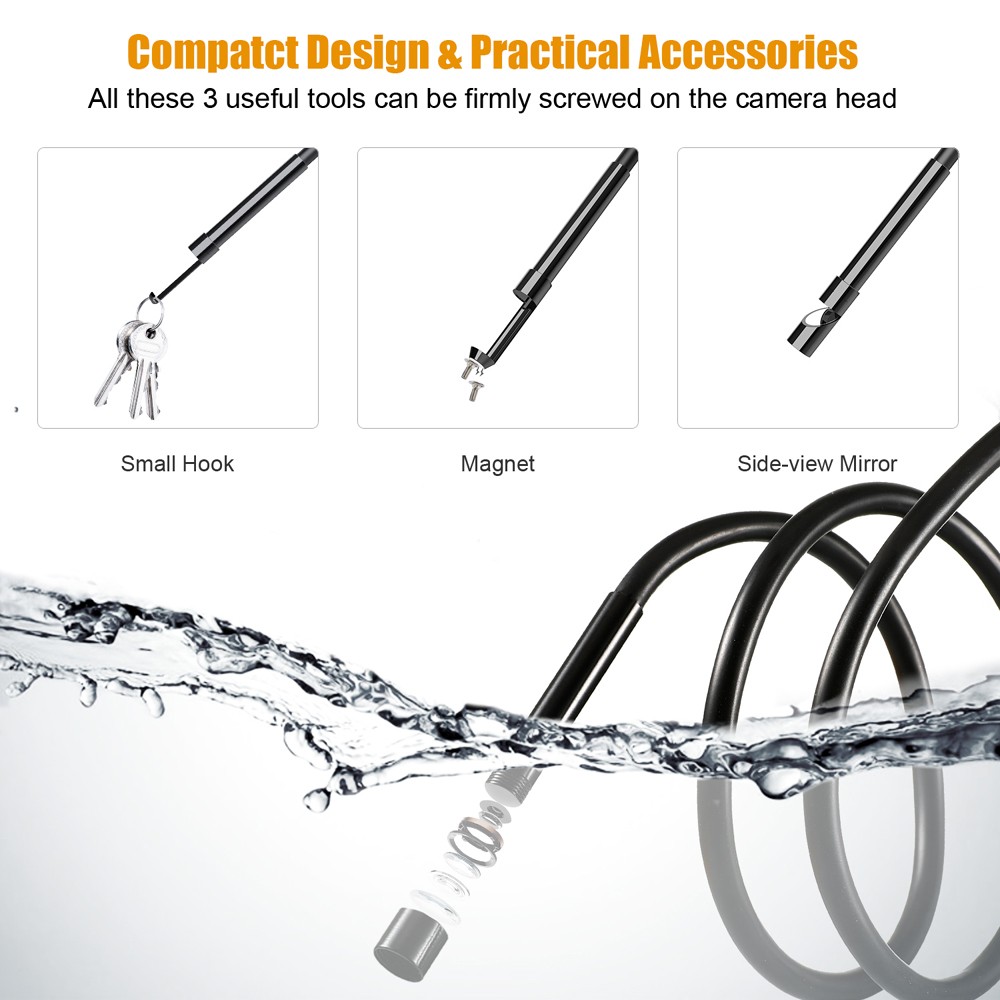 Features:
10 m long plastic camera cable - easily bends, but holds the set shape well
6x LED lights at the end of the camera with adjustable light intensity
4,3 inch monitor
Powerful battery with up to 4 hours of operation
Water resistance IP67
Image rotation on the monitor
Compact dimensions
Specification:
Camera cable: 10 m long, flexible, plastic
Power supply: built-in rechargeable Li-ion battery
Charging: micro USB cable, 5V/2A
Camera focus: 3-20cm
Video resolution: 1920x1080p
Video format: AVI
Image format: JPG
Image resolution: 2.0 MP
Camera viewing angle: 60°
Display: 4,3" LCD color display
Water resistance: IP67
Storage: support for micro SD cards
Camera lens diameter: 5,5mm
Package contents:
1x Monitor
1x Camera (10m cable)
1x Micro USB charging cable
1x Extension "hook"
1x Extension "magnet"
1x Extension "mirror"
1x Case
1x Manual
Comments
Other Products