Alarm clock with mini camera and motion detection
Accessories
+

16GB Micro SDHC Class 10 Kingston U$ 18.70
+

Product description

Alarm clock with mini camera and motion detection

Alarm clock with mini camera and motion detection - unique spy shop products for best price. ISO EN 9001:2008 certified online seller. So you can record when you press the record button or set up automatic recording when any motion is detected in front of the camera. An ideal solution for recording of the interior, exterior or just when you need to check the distortion of space or at the stealing of your things.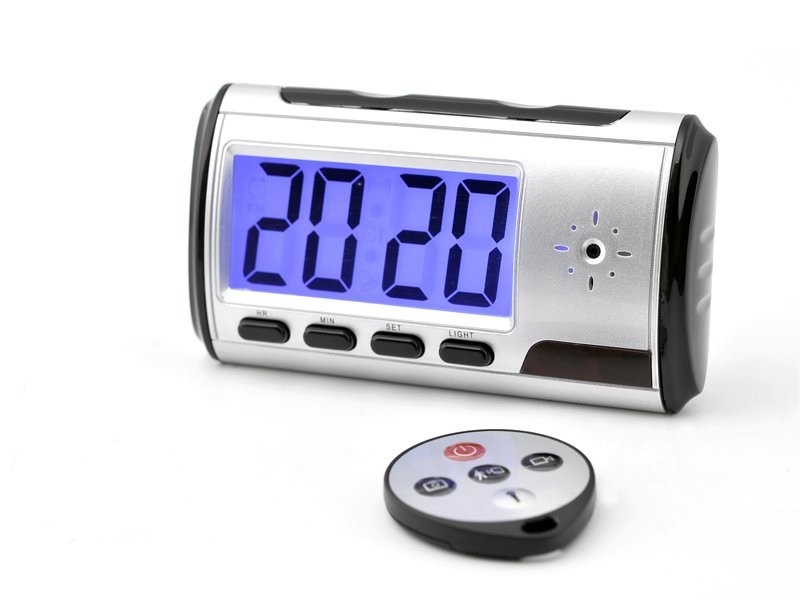 This product has high resolution (640x480). The device supports up to 32 GB micro SD card. This multi function device disposes with more functions like: video, audio record, induction video, making of pictures, web camera, electric alarm clock with file storage, with high capacity battery. Camera with motion detection
Recharge is made by connection to a computer's USB port or by connection to any USB charger (wall or car charger). Mini camera in IR LED alarm clock records in mode at 30 frames per second in AVI format at a resolution of 1280 * 720 pixels. The camera can be connected with included USB to PC and cable used as an external disk, which allows you to play records on the computer.
With this device you can record continuously up to 12 hours of video and 25 hours of audio recordings. You can record videos with a resolution up to 2.0 megapixels. The device is ideal for preventing theft and obtaining evidence.
Specifications:
Pixels: 2 Megapixels
Resolution: VGA 640 * 480
Motion detection
Video format: AVI
Frames per second: 30fps
The angle: 72°
Photo format: JPEG 1600 * 1200
Video recording time at a full charge: 12 hours
Power consumption: 130mA/3.7V
Storage temperature: -20-80 °
Operating temperature: -10-60 ° C
Operating humidity :15-85% RH
Memory card type: Micro SD card up to 32GB
USB connection
Charging time: about 4 hours
Comments
Other Products