AHD DVR recorder 1080P/960H/720P - 8 channels + 1TB HDD
Product description

AHD DVR recorder 1080P/960H/720P - 8 channels + 1TB HDD

AHD hybrid DVR recorder 1080P / 960H / 720P - 8 channels, has a mobile PC access (via internet) with 1TB HDD (hard disk drive to store your records). This 8 channel DVR IQCCTV hybrid recorder (HD1080p, HD720p, 960H) offers the most modern digital recording via a standard cables. The recorder can record camera image either 1080p / 720p / 960H AHD cameras, or from conventional analog cameras and automatically captures it in the same format as the camera. DVR unit can record all 8 cameras simultaneously 15fps at Full HD1080p, or 25fps at 720p or 960H resolution.

DVR provides Full HD 1080p output to a monitor using VGA or HDMI. The recorder can connect 8 cameras. Easy installation of cameras "Plug and Play", just connect one cable for power supply and video to one camera and you can record. Easy operation with simple on-screen menu that you can control with a USB mouse, touchpad and remote control via the network.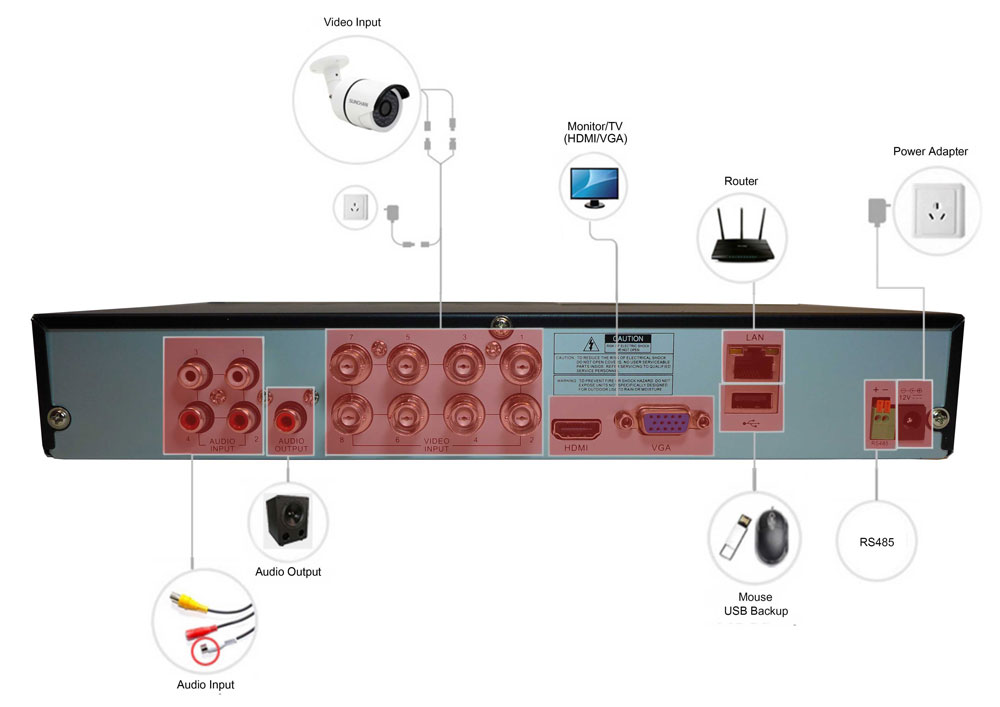 Another new feature is the option to automatically send video/photo files via the app Dropbox online service for sharing and backing up of files, either at the motion detection, or at the set intervals. The service provides additional protection for recorded files.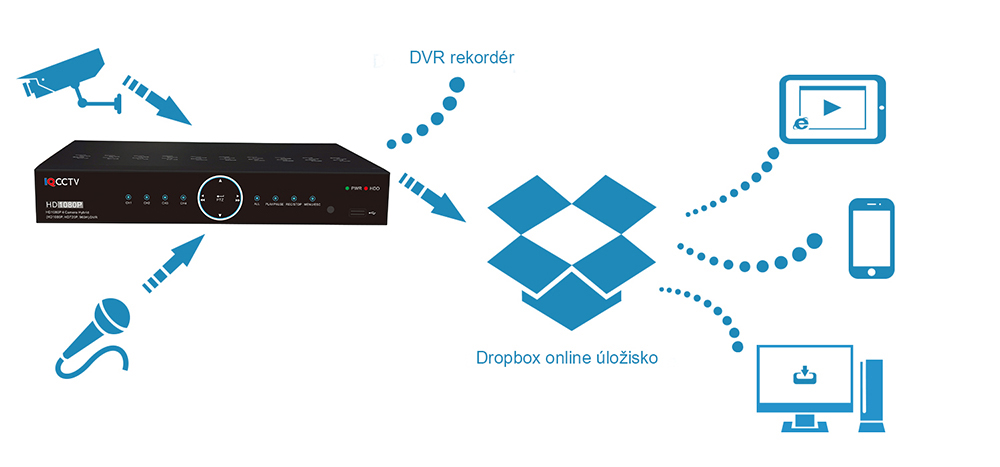 As soon as you connect the set to a network (the Internet), you can easily view and control from anywhere in the world using a smartphone (Android), tablet, PC and Mac (iOS) computers. The DVR can be connected to hard drive up to 6 TB and it also has 4 audio inputs and 1 output if you wish to add a sound.
You do not need to have a fixed IP address or to log in to the DDNS service. For those who do not want to use direct IP connection is also available HD CCTV feature that is added to the new series of DVR. It gives you the ability to remotely connect via a dynamic IP address. The application also allows multi-camera viewing and the ability to play recorded images from DVR.


Application "XIQ Mobile CMS" for tablets and smartphones you can download for free in the app store and using the "Snap Shots" function you can set up e-mail alerts that are really useful. You will certainly appreciate alerts when there is some disruption of area monitored by security cameras.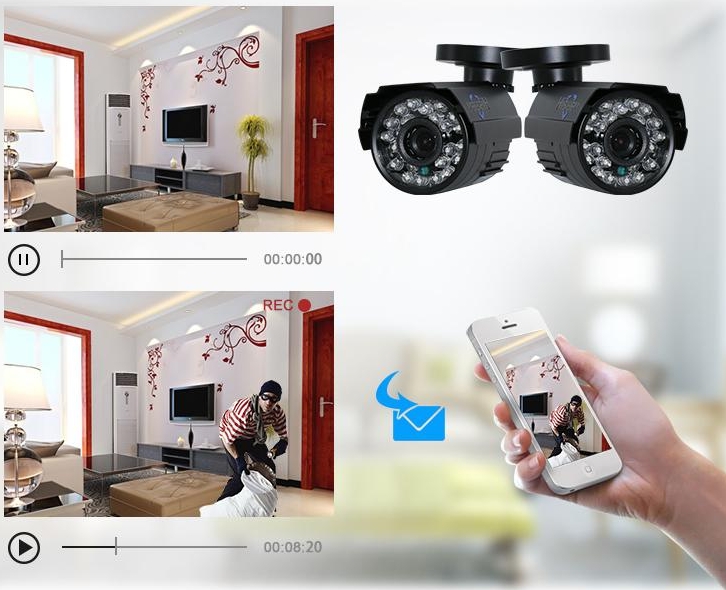 Function of advanced Motion Detection will ensure the start of recording if is captured any movement in the monitored area. This is a digital motion detection (not the classical motion sensor) which is much more accurate and efficient. Using the supplied software you can set the days and hours when will be this function activated.

For easy operation and setup, the DVR is equipped with On Screen Display (GUI) and can be controlled using the new function of touchpad or mouse (both are supplied as standard).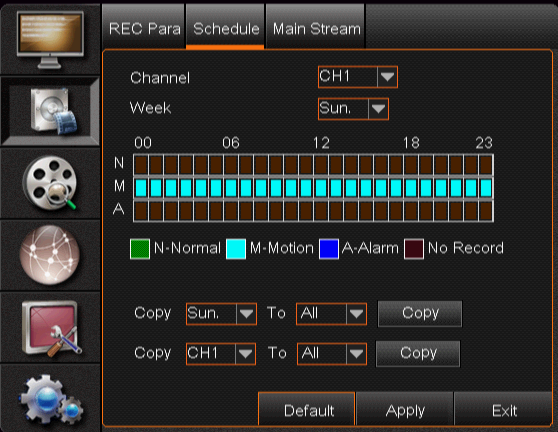 By using the easy camera settings, the system enables very easy settings how camera should record, either when motion is detected or continuous recording. You can set up exactly the day and hour of recording of cameras. If you need during working hours continuous monitoring of area, just set the time, for example from 8:00 to 17:00 the cameras will record continuously and from 17:00 only when motion is detected (possible distortions of space), the sstem will inform you about that via e-mail alert. The advantage of the multiple camera system is, that you can adjust each camera separately, what gives you a great variability in the monitoring.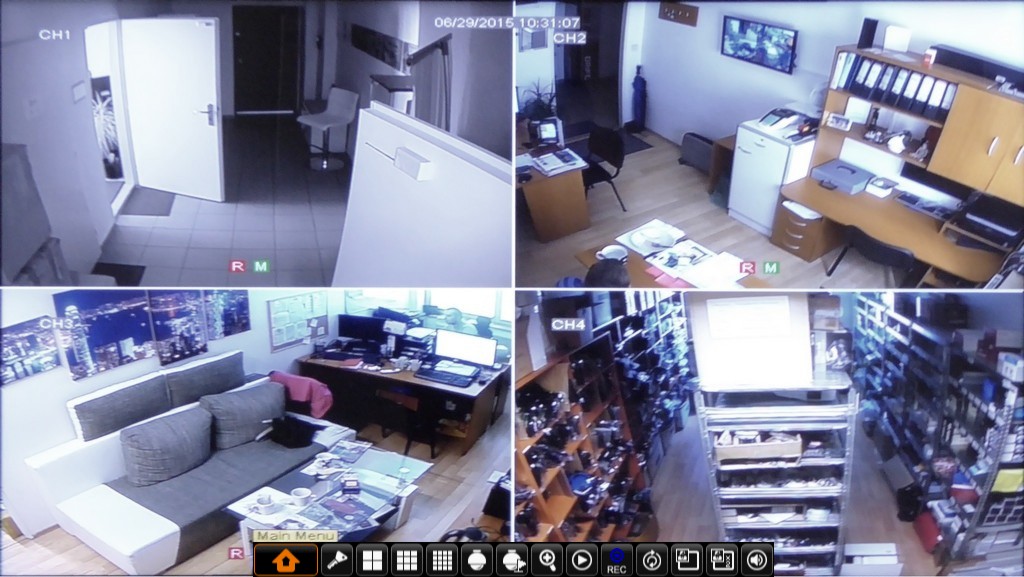 Features:

Recording speed: 25fps at 960H/720P, 15fps at 1080P


4 audio inputs


Remote access via smartphone, tablet, PC and Mac


Notifications by e-mail


VGA and HDMI monitor output


Ethernet - 1 x RJ45 port (10/100 m)


Front panel, mouse or IR remote control


Supports hard disk 1 SATA HDD up to 6 TB HDD (not supplied)

Technical specifications:
Model: IQR1080D8
Video compression: H.264
Video system: PAL / NTSC
Video input/output: 8 Ch. inputs, 1 VGA, 1 HDMI
Spot output: No
Audio input/output: 4 Ch. inputs, 1 Ch. output (RCA)
Display resolution: PAL: 960x576 / 1280x720 / 1920x1080 @ 25fps
Display function: Single, Quad, SEQ
Recording resolution: PAL: 960x576 (960H), 1280x720 (720p), 1920x1080 (1080p)
Recordin speed: PAL: 960H Mode / Mode 720p / 1080p Mode: 25fps
Recording Mode: Continuous / Manual / Motion Detection
Playback channel: 1/8 Ch.
Frame rate: PAL: 960H Mode / Mode 720P / 1080P Mode: 25fps
DVD-RW: No
Sensor and Alarm I/O: No
IR Extender Port: No
Network: LAN, DHCP, Dynamic IP and DDNS
HDD Interface: 1 SATA HDD up to 6 TB
Multiplex operation: Live view, recording, playback, backup and network
USB: 2 x USB (for mouse and backup / upgrade)
PTZ control: Yes
Mobile Surveillance: XIQ CMS - Android and iOS
CMS Software: Yes
Web browser: Internet Explorer, Safari, Chrome, Firefox
VGA: 800x600, 1024x768, 1280x1024, 1440x900, 1920x1080
HDMI 1080P
Power supply: 12V DC
On/Off Switch: No
Remote control: Yes
Dimensions (WxHxD): 300x53x227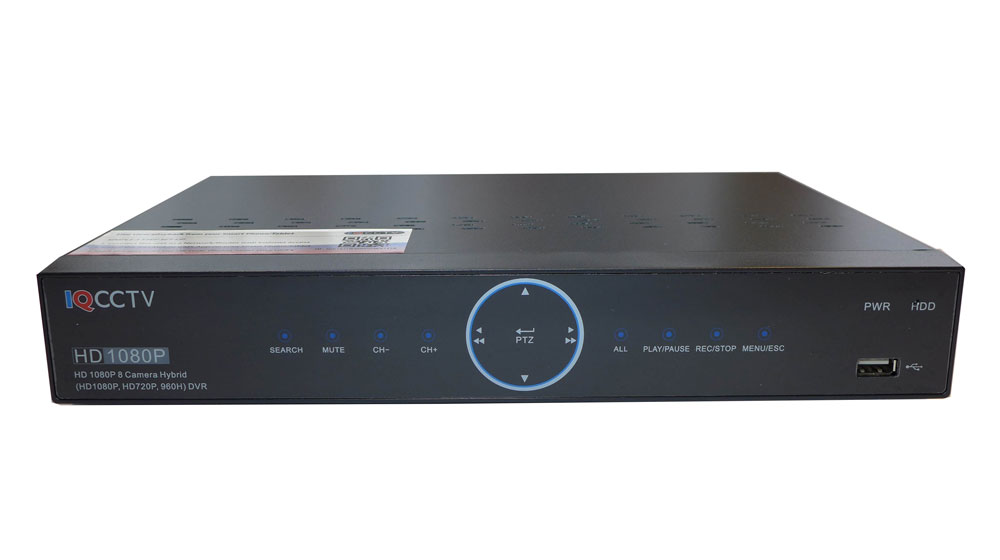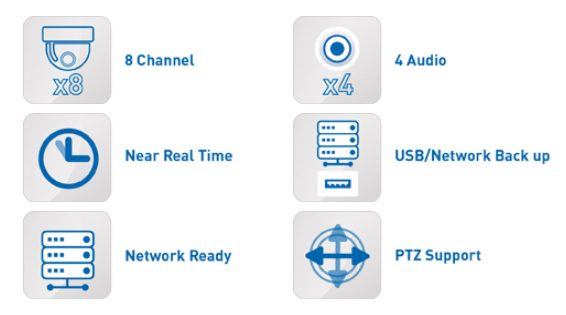 Contents:
1x DVR - IQR1080D8
1x 1TB HDD
1x Power Adapter
1x USB mouse
1x Remote Control
1x Installation CD
1x Manual
Comments
Other Products