9 inch touch screen reversing car monitor + support SD card 256
Accessories
Product description

9 inch touch screen reversing car monitor + support SD card 256

9 inch touch screen reversing car monitor + support SD card 256GB. Big car display for comfortable parking. Touch screen, micro SD card recording (up to 256 GB) and the ability to connect up to 4x FULL HD or HD reversing cameras. A new generation of parking system that brings you a clear, sharp image during the day, even in low light conditions and all the necessary technical means for the safe operation and control of motor vehicles and machines. For even easier use, the monitor is equipped with a touch screen. The monitor allows you to switch between different display variants of the cameras, depending on how many cameras you have connected and which one of them you want to be displayed as main. The reversing monitor contains a menu in which you have various options for setting up the LCD monitor and the cameras that are connected to it.
Touch monitor for reversing cameras with camera image recording
On each camera, you can set for example an mirror image via monitor, or turn on guiding lines which you can precisely calibrate on each camera directly in the menu. The reversing monitor offers several options of cameras displaying, so you can choose the one that suits you the most. You can handle the switching of the image between the cameras with one finger, because it works on principle of sliding by finger on the smartphone. With this system, you know exactly what is behind or around the vehicle. It is suitable for van, minibus, caravan, bus, truck, semi-trailers trailers, agricultural machinery and other vehicles. The monitor is equipped with an adjustable bracket that can be attached to the required place.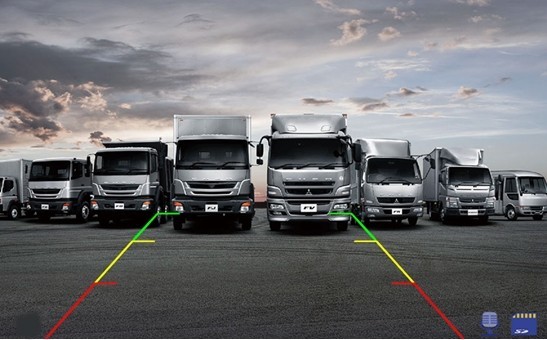 The recording from the cameras is stored on a micro SD card, which is supported up to 256 GB.

Up to 4 FULL HD cameras or 4 HD cameras can be connected to the monitor. You can select and combine the cameras from our offer by your requirements, depending on the type of vehicle. The cameras are connected to the monitor via 4pin cables with optional lengths of 10m, 15m and 20m. The 4-pin connector that connects the camera to the cable is waterproof as well as dust-proof and resistant against damage. Installation of the system is simple. On the monitor, there are cables for connecting cameras and powering the monitor, which is protected against overvoltage by a replaceable fuse. The cameras are powered directly from the monitor and therefore they no longer need to be connected separately to the source, making installation easier and you can place the camera anywhere on the vehicle. The monitor also includes 4 switching cables to connect the selected cameras to the reverse lights. When you reversing, the selected camera will automatically appear on the monitor.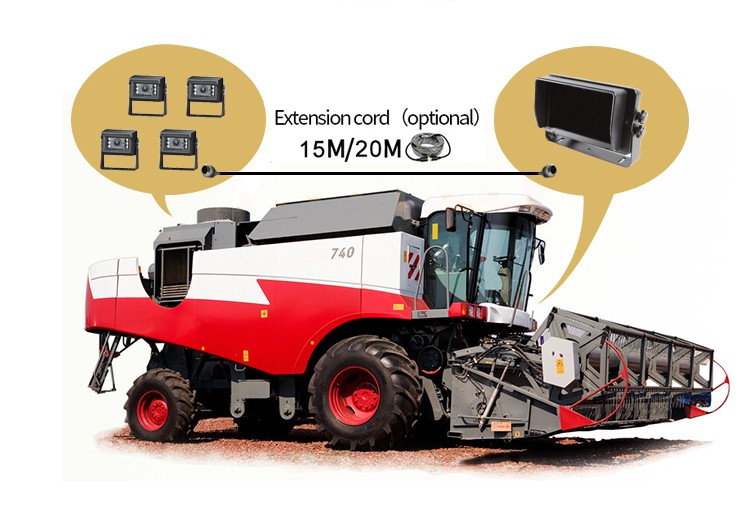 The monitor has the function of switching the resolution of the connected cameras. Therefore, you can connect 4 cameras with Full HD 1920x1080P resolution or 4 cameras with HD 1080x720P resolution to it. In case you need to put the camera on a trailer that is able to remove from the car or truck, you can buy in our e-shop a connecting cable of reversing camera for trailers and semi-trailers. This ensure easy disconnection of the reversing system and re-connection
Monitor for comfortable reversing with touch screen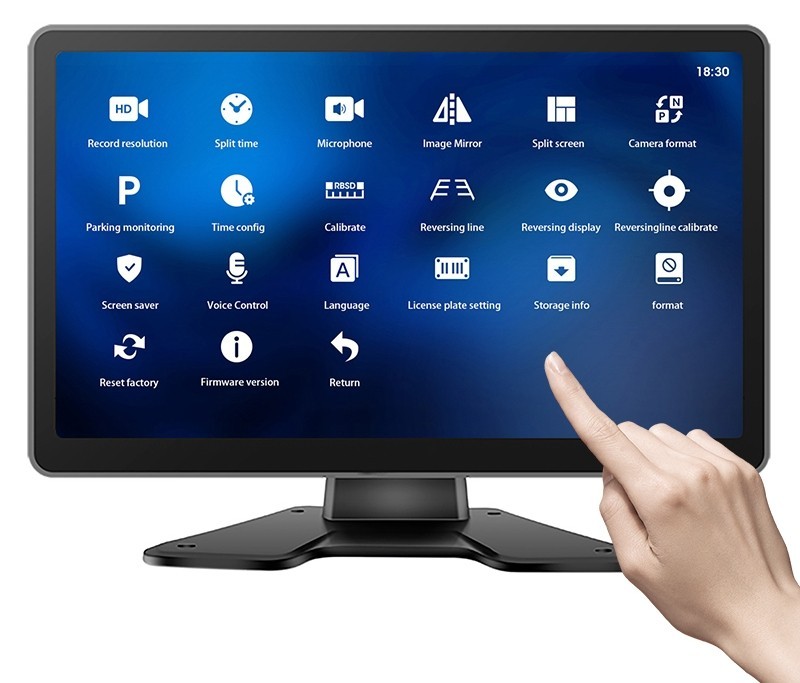 Features:
9 inch reversing monitor
Touchscreen
Wide range of settings in the display menu
Possibility to connect up to 4 cameras
Various camera display options
Monitor technical specifications:
Monitor: 9" IPS touch screen
System: PAL/NTSC
Aspect ratio: 16:9
Monitor resolution: 1024 x 600
Video resolution: 1920x1080 @ 25fps or 1080x720 @ 25fps
Inputs: 4x Full HD/HD channel
Luminosity: 500cd/㎡
Recording: yes, 4 channels
Cyclic recording: yes
Display layout: 1/2/3/4 camera
Video compression format: H.264
Video format: TSStreaming Media
CPU: lunch V526, 2 core A7 processor
RAM: DDR3 512M
Camera support: 720P NTSC, 720P PAL, 1080P PAL
Memory: support micro SD card class 10, up to 256 GB (memory card not included)
Adjustable: brightness, contrast, color, reversible guiding lines
Power supply: 9-36V
Night vision support: yes
Built-in audio: yes
Frequency: 50/60Hz

Package contents:
1x 9" LCD touch monitor
1x Monitor mounting bracket
1x 3D joint holder
1x 3M sticker
1x Power cable with fuse
1x Manual
Comments
Other Products