4x IR LED parking cameras with 7" LCD display
Product description

4x IR LED parking cameras with 7" LCD display

4x IR LED parking cameras with 7" LCD display. Do you think that the only one back-up camera in the car is sufficient for the maximum orientation? Well then 4 cameras will really satisfy you that you will see each obstacle in every angle. This parking system includes 4 waterproof cameras for your vehicle. Be a master of parking and do not be afraid of schratching of your car paint, or a another vehicle.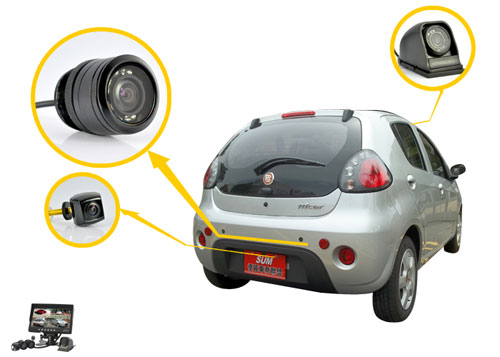 For example: Put 2 cameras in front to help in a constrained spaces, put 1 camera backwards to help you when reversing and parking, and to watch out of animals/children, which sometimes unfortunately go behind the vehicle, and put 1 camera on the roof of the vehicle (suitable for high trucks and lorries). Monitor shows all 4 cameras simultaneously, so you can be sure that you will not crash any obstacle.
This monitoring system is very convenient and easy to use. Connect the cameras to the monitor, which is mounted on the dashboard. The camera is powered directly from the vehicle and cameras are also waterproof, which means you do not have to worry about whether you park the car in the garage or outdoors, or in what weather you drive. Three of the four cameras have automatic night vision, so therenis no need to buy or install anything.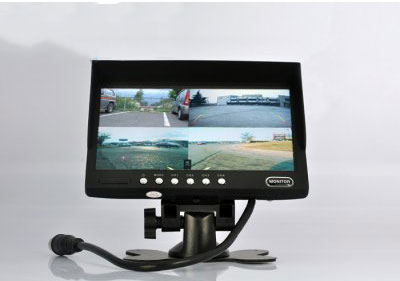 Product Specifications:
Monitor:
Screen Size: 7 "LCD
Format: 16: 9
Resolution: 1440 (W) * 234 (H)
Power supply: DC 9.6V-DC32V
View Camera 4 in 1
Auto Camera:
Image Sensor: 1/3 Color CCD
Resolution: 420TV lines
Signal system: PAL
S/N ratio: 40 db
White Balance: Auto
Camera Cable length:
- camera Type A: 1060 cm
- camera Type B: 560 cm
- camera Type C: 560 cm
Power supply: 12V
Angle: 170 °
Water resistant: IP67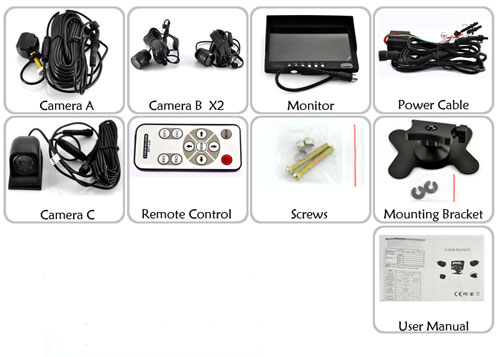 Package Contents:
7 "LCD monitor
4x Camera
Remote control
3x screws
Stand for monitor
Manual
Comments
Other Products