4 camera WiFi parking system + 7" LCD REC on micro SD
Product description

4 camera WiFi parking system + 7" LCD REC on micro SD

4 cameras WiFi parking system + 7" LCD with micro SD recording. WiFi parking system with recording as a black box in different situations, not only when using the device as a parking or reversing set. Signal transmission works based on WiFi signal from cameras which facilitates the installation of the cameras, and the main advantage is that you are not limited by pulling the connecting cables. The monitor also serves as a DVR recorder.

Wireless reversing camera with a monitor - 4x Camera + 7 "LCD with recording on SD card to 128GB (video and audio) from the brand PROFIO Electronics. This technology is designed to make work easier and especially for safe vehicle movement when operating. PROFIO Electronics focuses its systems to the widest possible range of vehicles such as larger cars, vans, trucks, construction and agricultural machines. This monitoring Wifi system has great potential for use in a variety of other activities, where is necessary to have a complete overview of what is happening around you and to monitor the work.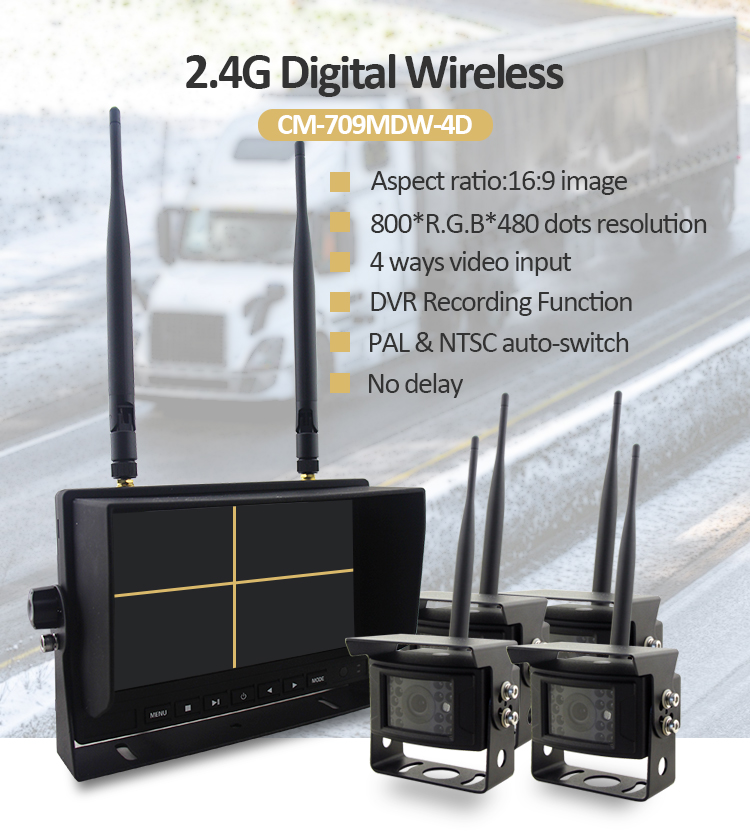 It is recording a camera record and stores it on a SDXC memory card up to 128GB. The record is recorded in VGA resolution and on a 128GB memory card you can save more than 200 hours (8 days) record of one camera or 50 hours of all 4 cameras. Digital wireless power guarantees a signal transmission of up to 100m, and the signal is also strong enough not to be disturbed with large metal parts of the vehicle or cargo. In addition to video recording, the micro sd also stores sound audio recording.
This set contains 1x WiFi DVR 7" monitor in the car and 4x WiFi reversing camera. Monitor with camera is equipped with an adjustable console, which you can place on needed place. The WiFi reversing set has a wide range of use, thanks to high-performance WiFi antenna is suitable not only for cars but also van, minibus, buses, trucks, trailers, semi-trailer, agricultural or construction machinery and other vehicles. IP level of camera protection is up to IP66 waterproof, dustproof and resistant to damage.
WiFi reversing set with DVR recorder and extra long range of WiFi connection up to 100m.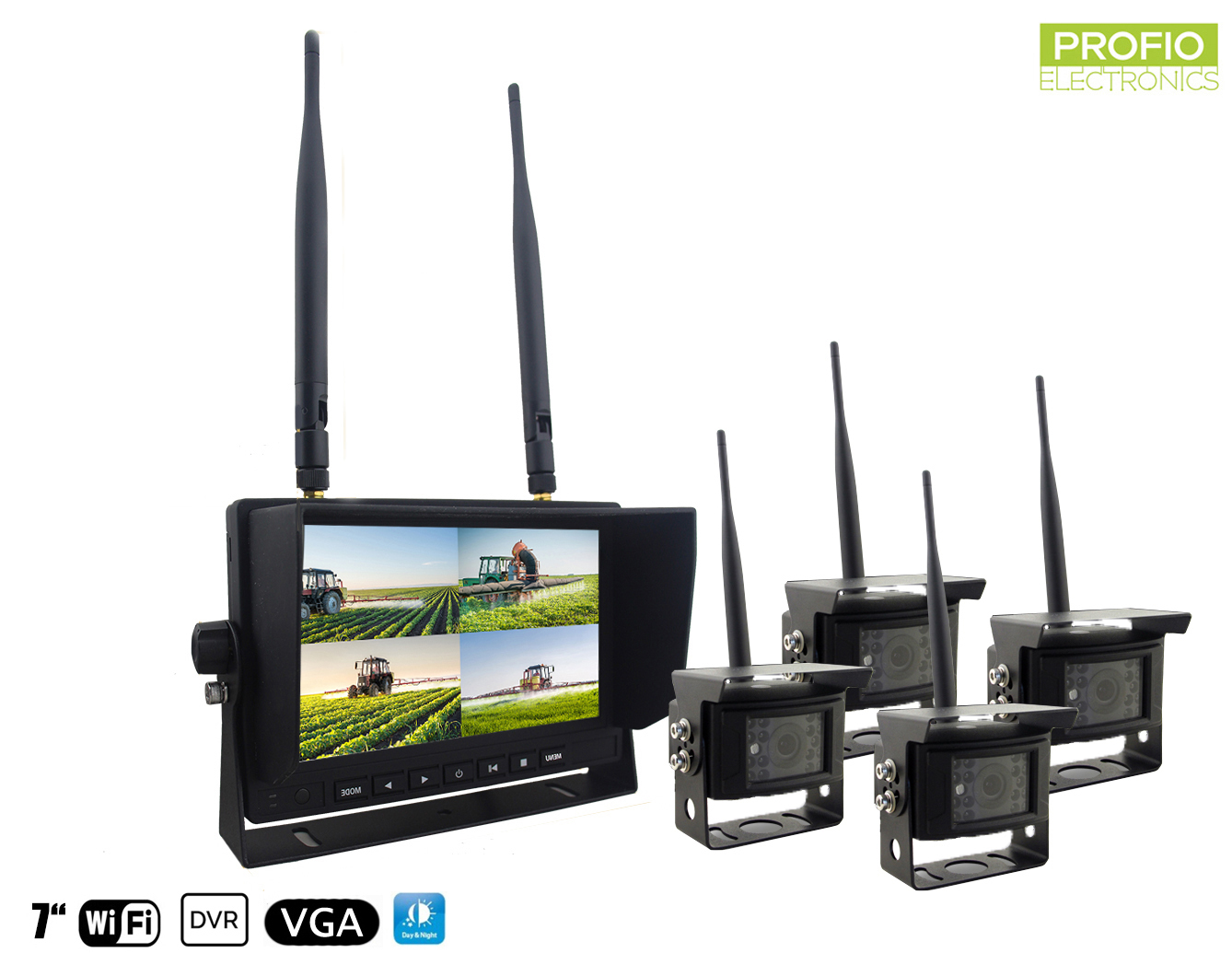 It is possible to connect up to 4 WiFi cameras to the WiFi DVR monitor at the same time, especially when installing on larger motor vehicles, where you need more views from different angles. With this system you will know exactly what is behind or around the vehicle. The LED monitor has a contrast 300:1 with a resolution of 800x480. A wide-angle lens with up to 150° is also equipped with IR night vision. The WiFi signal has a range of up to 100m, what guarantees you a quality receiving from the reversing camera. The monitor has a simple OSD menu through which you can set the camera according to your needs. On the LCD monitor, it can display all four cameras at the same time, in multiple variations, to display two cameras alongside, or switch between cameras. Through the switching circuit, the camera can be connected to reversing lights to automatically switch to the selected camera, when reversing.
The LCD monitor with cameras can be connected in different ways, to turn on when reversing or after the vehicle is started. The DVR monitor also has an image mirroring function that allows you to set the cameras to show the right and left side from your view. It also includes a remote control that will simplify controlling when switching cameras, or quickly adjust the image
Possibility of mirroring function of camera + possibility to see all cameras on LCD at the same time or each camera separately
In case you need to mount the monitor in a different way than with bracket (what is included in package), you can find in our offer another three more types of stands which allow you to attach your monitor to easily reachable place.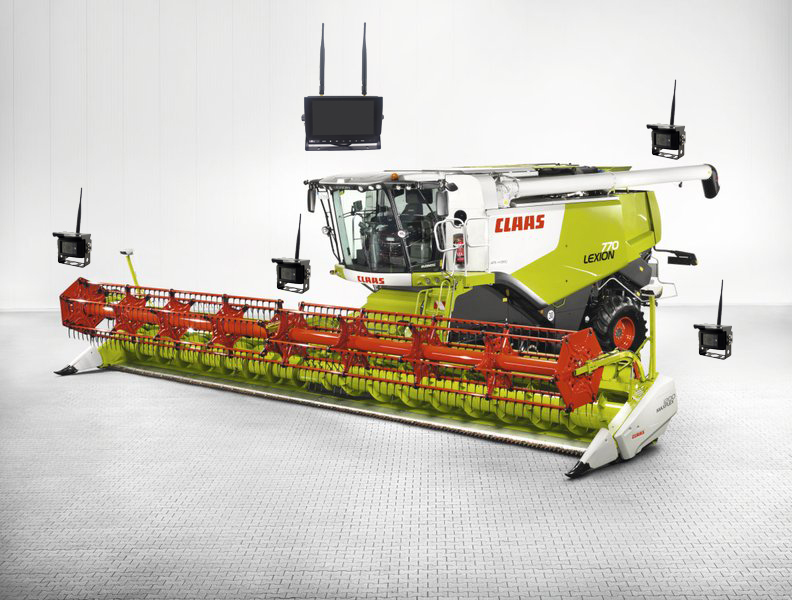 WiFi DVR 7" TFT monitor
DVR recording function from up to 4 cameras
Monitor with option to connect up to 4 WiFi cameras
Installation without pulling cables
Monitor technical specifications:
Model: Profio Clear View S7
7" LED Monitor
System: PAL/NTSC
Aspect ratio: 16:9
Monitor resolution: 800 x 480
Inputs: 4 channel 2,4G WiFi video signal input
Contrast: 300:1
Adjustable: brightness, contrast, color
Power supply: DC 12V-24V
Power consumption: 5W
Working temperature: -10 to 60° C
Storage temperature: -20 to 70° C
Dimensions: 180 x 121 x 24 mm
Camera technical specifications:
Model: Profio Parking Camera S7
Image sensor: SHARP 1/4 CMOS
Resolution: 420 TV lines
WiFi connection: 2,4G WiFi with 100m range
Minimum lighting: 1 LUX
IR night vision: yes
Viewing angle: 150°
IP protection: IP 66 waterproof, dustproof, damage resistant
Power consumption: 3W
Working temperature: -10 to 60° C
Storage temperature: -20 to 70° C
Dimensions: 86,5 x 77 x75mm
Package contents:
1x 7" TFT WiFi DVR monitor
4x WiFi reversing camera
1x Remote control
1x Manual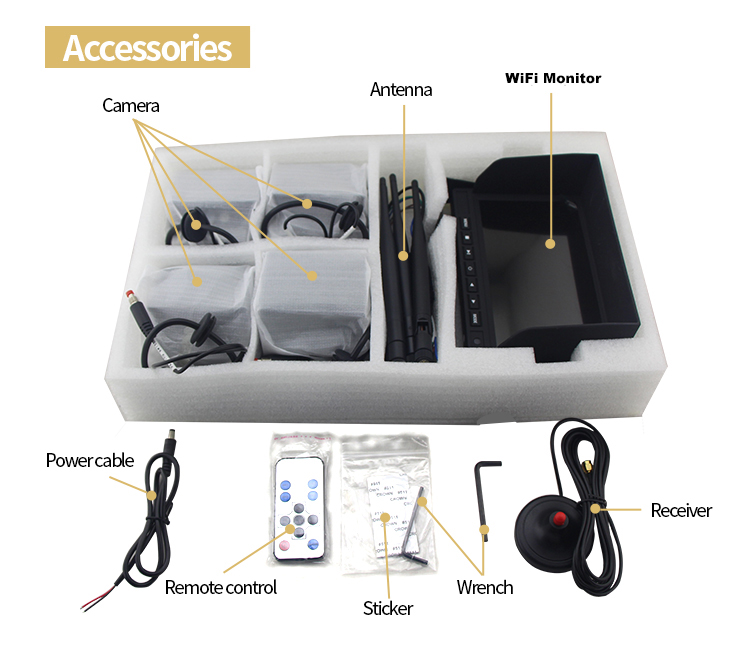 Comments
Other Products