360° HD panorama spy camera with WiFi + IR LED
Accessories
+

16GB Micro SDHC Class 10 Kingston U$ 18.70
+

Product description

360° HD panorama spy camera with WiFi + IR LED

360 ° HD panorama spy camera with WiFi + IR LED. With this camera you can really monitor the entire space in the room - so you will capture everything. It has motion detection and offers a fish eye view and a full coverage of about 100 square meters, so you have all space captured. For such a wide coverage, you would need at least 4 common cameras, but thanks to our 360° panorama camera you will save a lot of money.

The camera supports WiFi, allowing easy installation on the wall or ceiling, and the ability to control over a mobile phone. Just download the "V380" mobile app (iOS, Android) into your smartphone, pair both devices, and start watching the image in real-time. The security camera can be connected to a home router via WiFi or Hot Spot, allowing you to view the image anytime and anywhere using your mobile phone. The scanned camera image can be edited by swiping your finger on the smartphone to set the ideal angle, or you have at disposal up to 5 display modes. Each mode makes the panoramic camera the ideal guard for indoor use.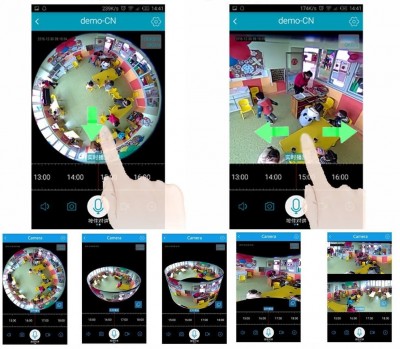 The panorama camera also has motion detection, so you'll always be alerted to your mobile phone in case of any movement in the room. The option to set up an audible alarm on the camera to alert unwanted guests and warn that there is the monitored area. The perfect way to always have a secure home, office, shop or garage during your absence. The camera has not a problem with poor lighting conditions, or even with absolute darkness thanks to infrared LED light. It still maintains the same high-quality HD picture quality and provides night vision up to 9 meters .
The camera also offers two-way communication as it has built-in high-sensitivity microphone and speaker. You can listen hear and talk your child or pet via a mobile phone during watching of the video while you are at work. Captured records go through H.264 compression to reduce file size and then are stored on a micro SD card supported up to 32 GB (not included). If the SD card memory is full, it will start recording in a loop and overwrite the oldest records so you will not loose the current images.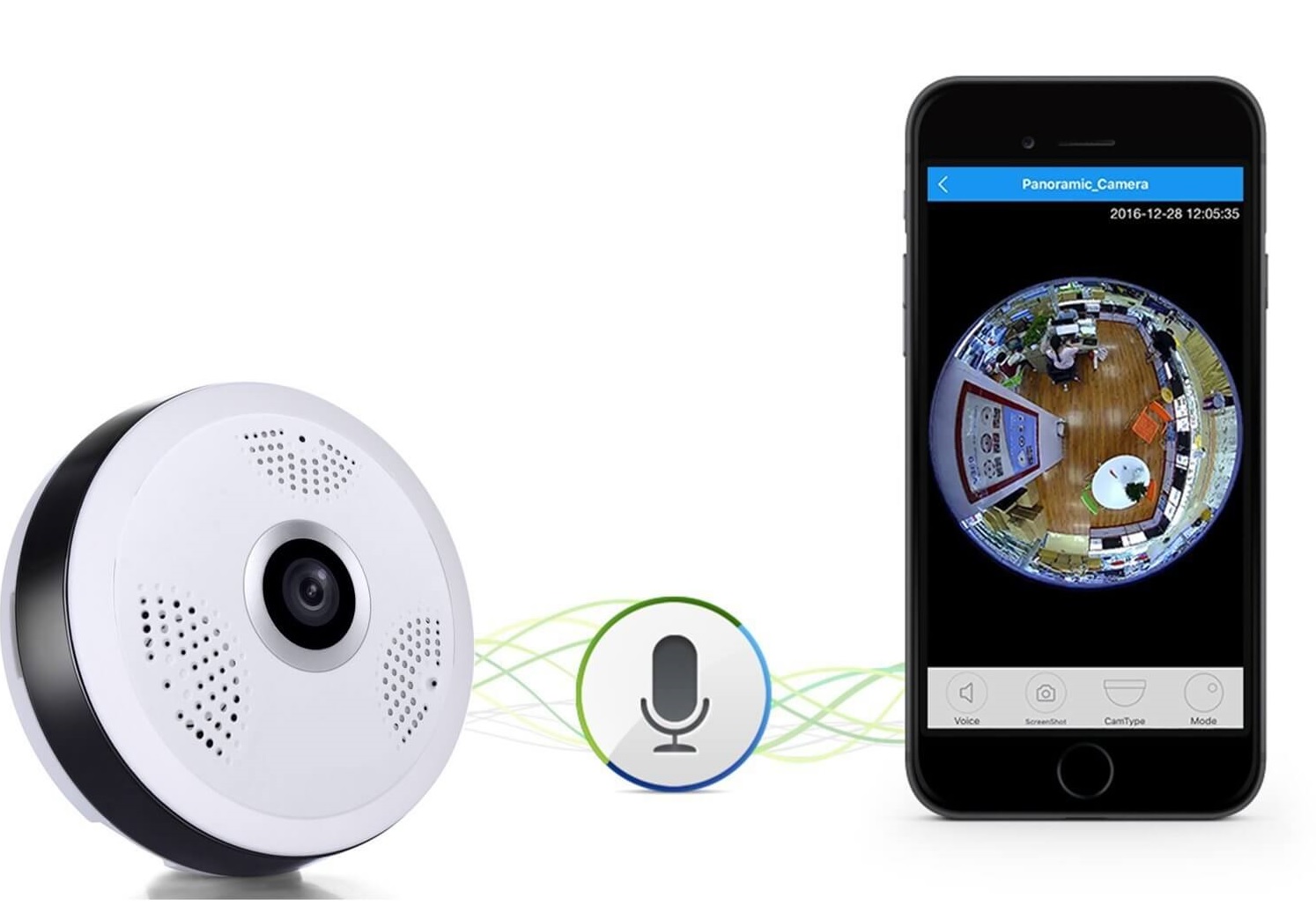 Features:
Full HD realtime video
Two-way communication
Motion detection and automatic alert
Recording in a loop
WiFi connection
Night IR vision
Specifications:
Video resolution: HD 1280x960
Audio: Built-in microphone and speaker
Memory: Supports micro SD cards up to 32GB
Operating temperature: -10 ~ 50 °C indoors
System support: iOS 6.0 or higher, Android 4.0 or higher.
Dimensions: (W) 70 mm x (H) 36 mm
Weight: 60 g
Package contents:
1x 360° panorama camera
1x USB cable
1x AC Adapter 220V/USB
1x Mounting accessories
1x 3M sticker
1x Sachet with 2 screws
1x User guide
Comments
Other Products