1920x1200px car monitor 7" LCD - 3CH video input for AHD/CVBS and VGA cameras
Accessories
Product description

1920x1200px car monitor 7" LCD - 3CH video input for AHD/CVBS and VGA cameras

1920x1200px car monitor Hybrid 7" LCD - 3CH video input for AHD/CVBS and VGA cameras. Monitor with ultra-high resolution up to 1920x1200px RGB from the brand PROFIO ELECTRONICS. Compact hybrid 7 inch car reversing monitor for 3 cameras (reversing, parking) with by an AHD signal, or CVBS + remote control. The monitor allows switching between 3 cameras (independently displayed image from one, the second camera, or the third camera). The package also includes a remote control, for even easier control of the monitor. The hybrid monitor supports mixed AHD + CVBS input signal in several video formats and also PAL/NTSC frequencies.
7" car monitor with high resolution 1920x1200px ULTRA HD

The monitor has a high resolution of 1920x1200 RGB. For example, image mirroring can be set on each camera via the monitor. With this system, you will know exactly what is behind the vehicle or around it. It is suitable for cars, vans, minibuses, caravans, buses, trucks, semi-trailers, agricultural machines and other vehicles. The monitor is equipped with a positionable holder that you attach to the necessary place and a sun visor.
Hybrid monitor for reversing cameras - 3 AV inputs

It is possible to connect 3 cameras to the monitor - AHD or CVBS. According to the need and type of vehicle, you can choose and combine cameras from our offer so that they meet your requirements. The cameras are connected to the monitor via 4pin cables. The monitor has cables for connecting cameras and powering the monitor. The cameras are powered directly from the monitor, so it is no longer necessary to connect them separately to a source, which simplifies installation and you can place the camera anywhere on the vehicle. The monitor also includes switching cables, through which you can connect the camera to the reversing lights. After engaging the reverse gear, the reversing camera will automatically appear on the monitor.
Car monitor for convenient reversing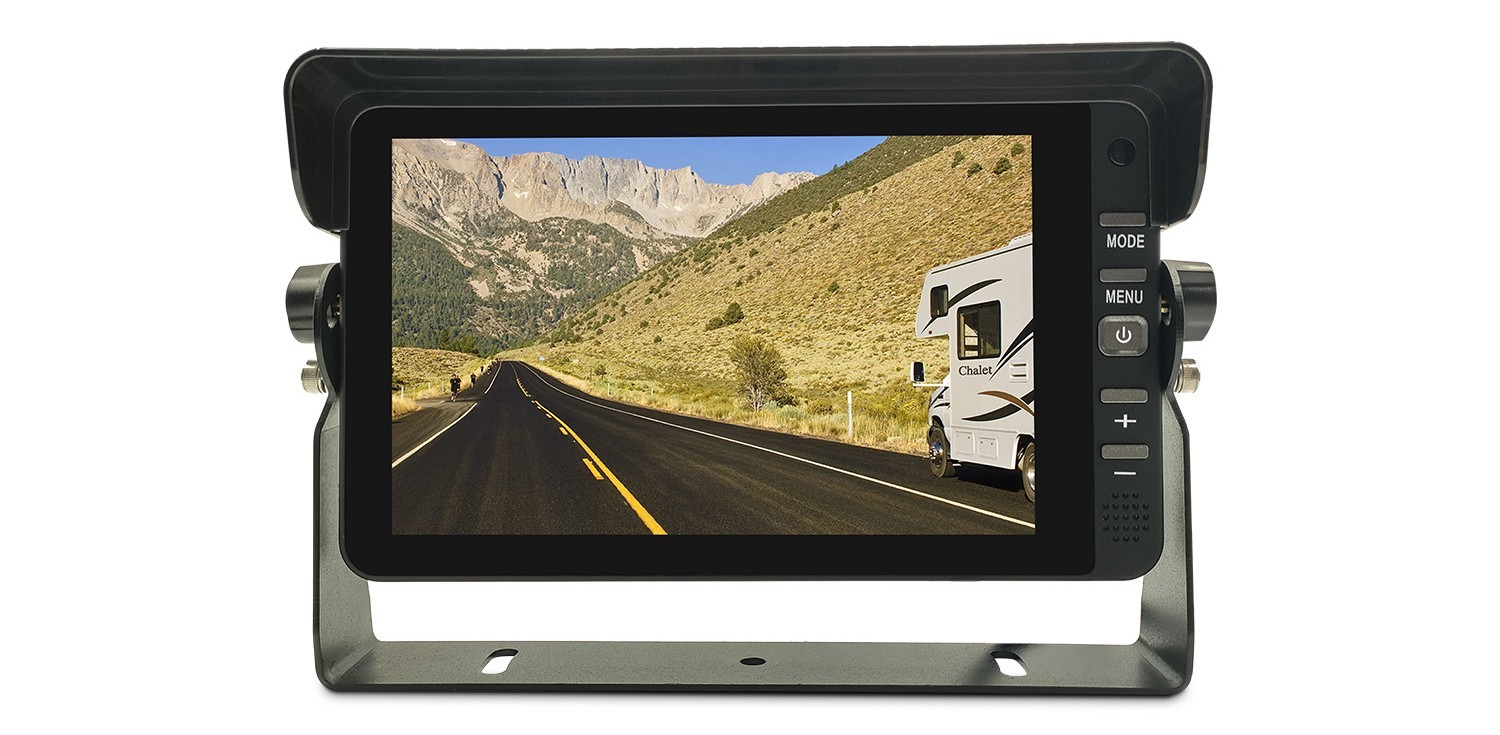 If you need to attach the monitor in a different way than with the bracket that is part of the monitor, you will find in our offer 3 other types of stands that will allow you to attach the monitor to, for example, the windshield or in the place where you need it. If you need to put a camera on a trailer that is disconnected from a car or truck, you can buy a connecting cable for a reversing camera for trailers and semi-trailers from us. This will guarantee easy disconnection of the reversing system and its reconnection.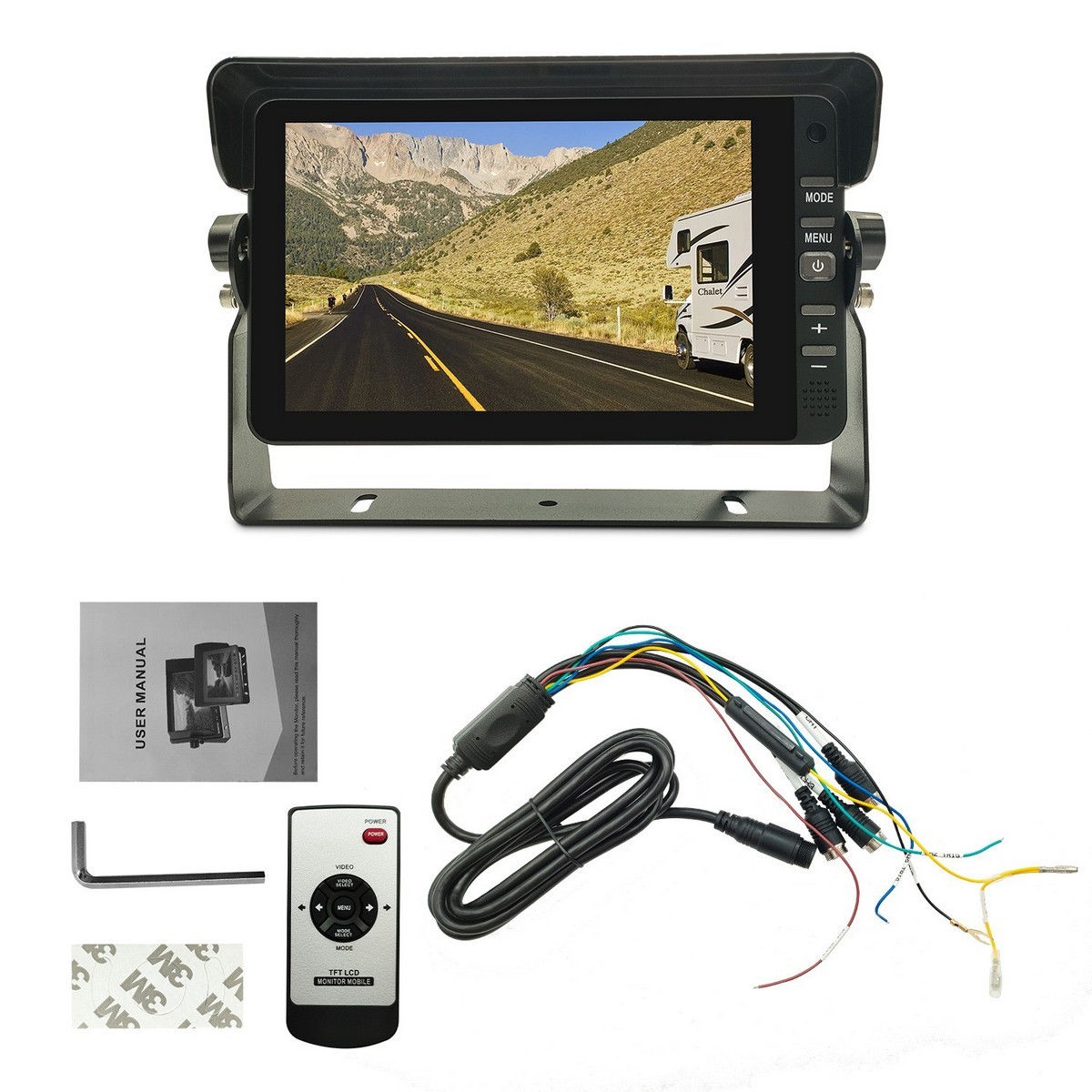 Features:

7 inch reversing monitor


Resolution 1920x1200 RGB


For both AHD and CVBS signal


Wide setting options in the display menu


Possibility to connect 3 cameras


Various camera display options
Technical specifications of the monitor:
Model: Profio LCD MU65
Monitor: 7" LCD screen
Resolution 1920x1200 RGB
compatible with CVBS and AHD signals
compatible with PAL and NTSC systems automatically
16:9 screen ratio
Contrast 1200:1
Brightness of backlight 450 cd/m2
FPS 1080P: P25f/s, N30f/s
Viewing angle UP—80°, DOWN—80°, LEFT—80°, RIGHT—80°
Sun visor: yes
Compatible signal: AHD720P/960P/1080P/CVBS signal (AHD +CVBS signal)
Signal input 3CH AHD 1080P / 720P / CVBS input, 2CH audio input
3CH image display - each camera separately
Trigger 3CH trigger control, can set the reverse delay
Recording: no
OSD control Image display, reverse delay, image mode, system setting
Power supply DC12-24V
Current consumption TYPE DC12V/320mA
Power consumption <4W
Boot time 2S
Power consumption <4W
4G level of shock resistance
Connector: 4pin connectors
Color: black
Remote control: yes
Language: 8 kinds of languages
Working temperature -10~+60 ºC
Working humidity 85% RH
Storage temperature -30~+70 ºC
Monitor dimensions: 19,4 x 11,5 x 2,6 cm
Weight: 561g

Package contents:
1x 7" LCD monitor
1x Positionable monitor holder
1x Sun visor
1x Cable with 3 inputs for cameras
1x Remote control
1x Allen key
1x Manual
Comments
Other Products