Wifi borescope HD camera with 3,5" LCD
Manufacturer
/
Products aviability
in stock
Products are in stock, ready to send.
Yes! We Ship To
Price excl. VAT
$230.00
Price incl. VAT
$276.00
Product description

Wifi borescope HD camera with 3,5" LCD

Wifi borescope HD camera with 3,5" LCD and other inspection cameras on sale online - good price. We are the specialists in the world of cameras. Endoscopic camera with a 8,5 mm diameter of camera and with resolution 640 * 480 pixels. The excellent images even in the worst lighting conditions ensures 6 pcs white LEDs with adjustable brightness. Borescopes can be easily connected to your smartphone or tablet using the built-in WiFi. The standard support NTSC / PAL. Borescope has a 6x zoom and supports SD cards up to 32 GB.

Flexible and easily removable 100 cm long gooseneck is ideal for visual inspection of inaccessible places. Professional endoscopic camera with a quality display.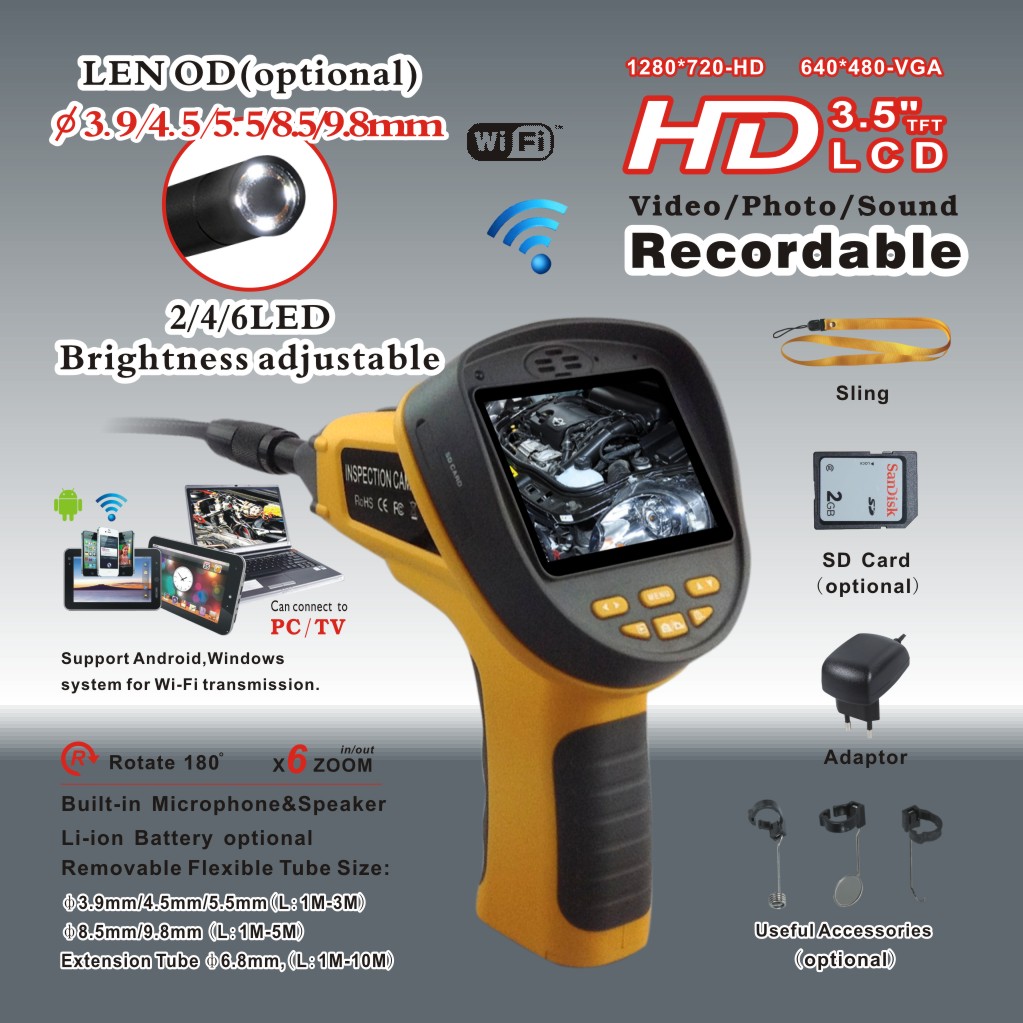 Application: Suitable for use in section geodezia pipes, underwater exploration, installation, montage, construction, workshops, laboratories, education, wildlife observation, maintenance and repair of cars, checking of inaccessible places, etc.
Product Specifications:
Model: 99EW
Display: 3,5 "TFT LCD monitor
Diameter of the camera: 8,5 mm
Cable diameter: 6,8 mm
Cable length: 1M
Sensor: VGA CMOS
Focal length: 3-8 cm
Angle of View: 65 °
6 pcs adjustable white LEDs for additional lighting
TV standard: NTSC / PAL
Support for SD cards (up to 32GB)
Video resolution: 640 * 480 pixels
Zoom: 6x
Picture camera can be rotated 180 °
Functions: photo, video, audio, record,
Built-in Wi-Fi module: iOS / Android / Windows
Power: Li-ion battery 3,7V 2000mAh

Accessory:
1x AC Adaptor
1x mirror
1x hook
1x magnet
1x A/V cable
1x USB cable
Comments
Other Products