Reversing camera 3v1 - with parking sensors and 2xLED
Manufacturer
/
Products aviability
in stock
Products are in stock, ready to send.
Yes! We Ship To
Price excl. VAT
$80.00
Price incl. VAT
$96.00
Product description

Reversing camera 3v1 - with parking sensors and 2xLED

Reversing camera 3v1 - with parking sensors and 2xLED. Only quality parking cameras for sale online with worldwide delivery. Buy now product in stock! is the ideal parking assistant which gives you great overview when reversing about what is happening behind the vehicle, whether you are far enough away from an obstacle or another vehicle. Reversing Camera has a wide picture angle of 120 ° and 2x High Power LED and two parking sensors with which you will easily see everything you need at night. Parking sensors are located on both sides of the camera. The sound signalization warns you how close is an obstacle.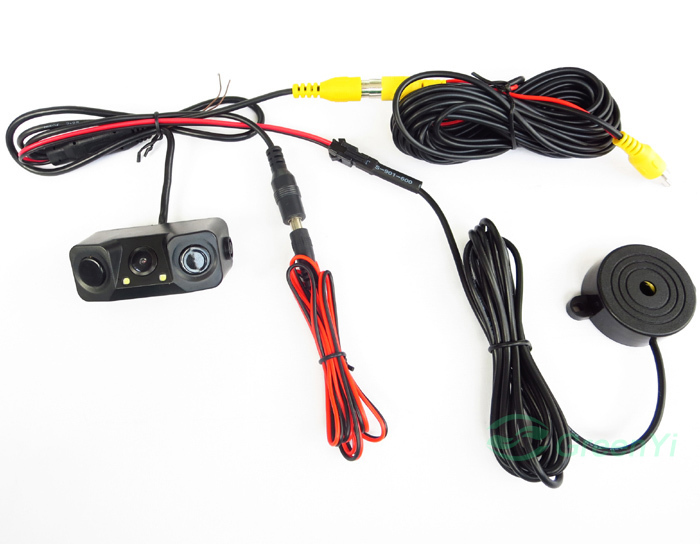 Universal reversing camera can be used for any type of vehicle. Easy and quick to install. The camera is attached to a suitable place with unscreened view. It can be mounted above or below the license plate. The camera has a trajectory, through which you see exactly distance of the vehicle from the obstacle. When you give reverse gear, the camera automatically turns on and also TFT display on the rearview mirror.
Specifications:
Voltage: 12V DC
Working range: 10.5V - 16V DC
Current: 100 mA - 200 mA
Estimating distance: 0.3 to 2.0 meters
CMOS image sensor
Total Pixels: 640x480
Resolution: 480 TV Lines
Mini. illumination: 0.1 lux
TV system: PAL / NTSC
Camera angle: 120 °
Video Output: 1.0Vpp composite video at 75 ohms
Sound signalization: 100 db
Operating temperature: -20 to 70 ° C
Size: 66,5 x 32 x 24,8 mm
Contents:
1x 3v1 reversing camera
1x audio signalization unit
1x power cord
1x video cable
1x bracket for mounting
1x manual
Comments
Other Products