Real time language translator - Supreme BTLT 160 handset
Manufacturer
/
Products aviability
in stock
Products are in stock, ready to send.
Yes! We Ship To
Price excl. VAT
$128.33
Price incl. VAT
$154.00
Product description

Real time language translator - Supreme BTLT 160 handset

Wireless translator of 33 different languages ​​in real time Supreme BTLT 160 - Bluetooth connection of a headset (headphone) with a Smartphone. A handset translator that can be used online or offline. Supreme BTLT160 translator is a compact translator that can be applied and used as headphones. The intelligent speech translator supports 33 languages, such as English, Chinese, and Arabic, including Slovak and Czech. You can use various functions by connecting to the dedicated Smartphone application, and you can use 8 modes, such as "FACE TO FACE MODE" , which translates voice and text on the Smartphone when talking to the handset, and "MEETING MODE", which keeps history for conference overview.
Supreme BTLT160 - voice translator earbuds, convenient digital interpreter, instant and easy translation of 33 languages!
The travel pocket translator has mini compact dimensions of about 68 mm x 18 mm x 25 mm and the weight is only 8,6 g. It has a battery capacity of 90 mAh with continuous operation for up to 5 hours, charging the battery takes about 2 hours. The dedicated application is compatible with iOS and Android devices. Speak all languages ​​using this real-time language translator that can translate spoken languages ​​into your native language and vice versa. With the Cloud, the accompanying mobile application for Android and iOS and the dual-channel Bluetooth 5.0 handset, it is a truly excellent technological experience.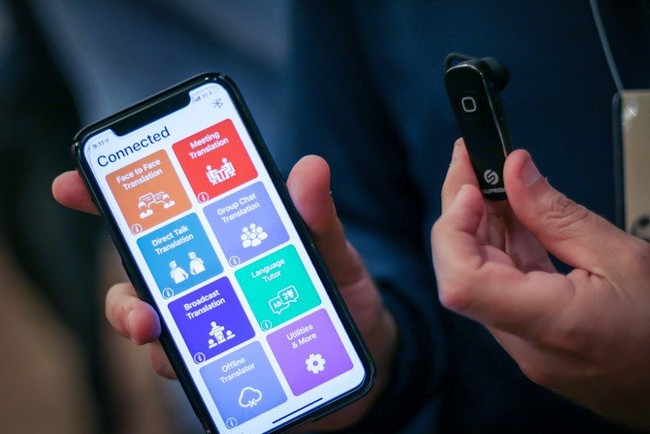 Do you love traveling, working abroad or want to learn new languages? We have the perfect solution for you - the Supreme portable handset, a simple device that translates your conversations in real time! By inserting the earpiece into your ear, you can understand anyone who speaks almost any language. If two people use this device, they can speak together even if neither of them knows a common language. This platform runs in the Cloud, but there is at disposal Bluetooth V.4.2 headset, which enhances the experience and supports two-way communication with the translation application. You can send the translated audio to the headset. The great advantage of using this headset is the flexibility offered by translation services. You can use this system to start a discussion with a group of people. Each person can have a different language translation, with direction through the own headset.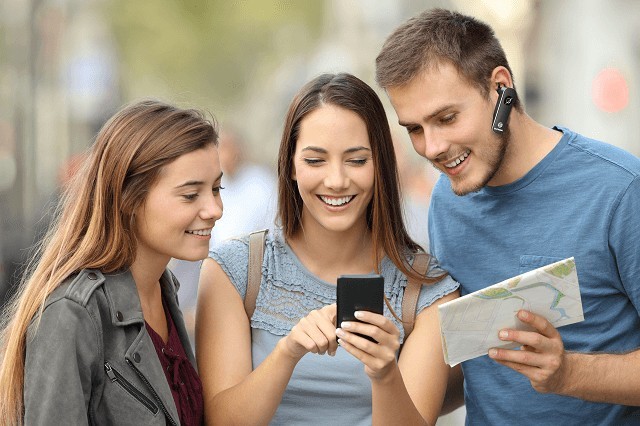 If you need real-time voice translation, you have 33 languages ​​available. If you want to switch to text typing, the total number of languages ​​will increase to 59. The choice of languages ​​is constantly increasing. You will see after trying this system, that it works incredibly well. Even in a noisy environment, the translator will have no problem recognizing, interpreting and translating different languages. It looks like the future has already come, and there's nothing stopping you from talking to another person live in real time right into your ear.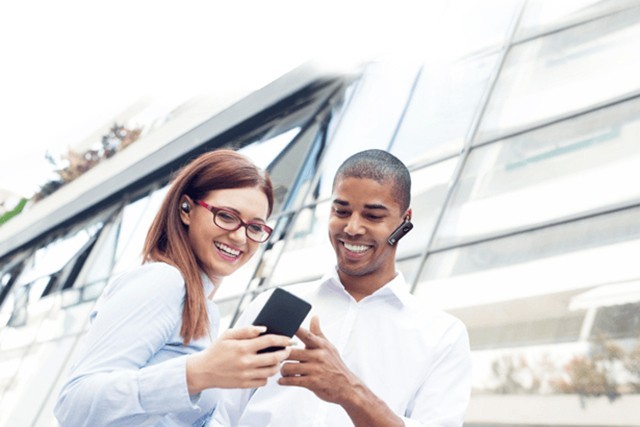 Easy to use
This wireless Bluetooth translator works with an iOS and Android compatible application that translates every conversation for you, including verbal and visual elements, when connected. In addition, the headset can be used to receive calls directly.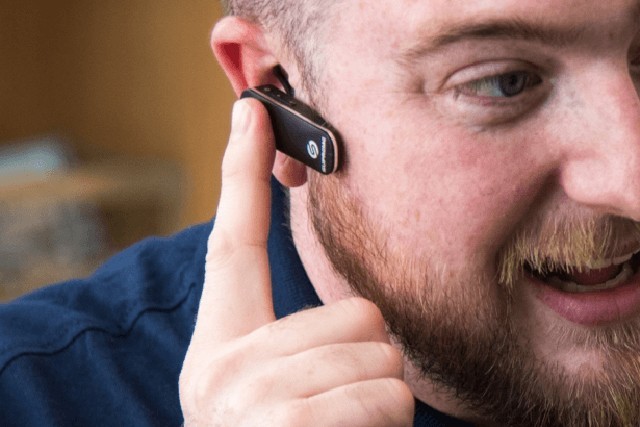 Practical design - comfortable to wear
The Supreme handset is not only a great translation handset, but also provides clear and clean phone calls. The design is soft and light, comfortable for your ear. The battery lasts up to 5 hours and can be easily charged.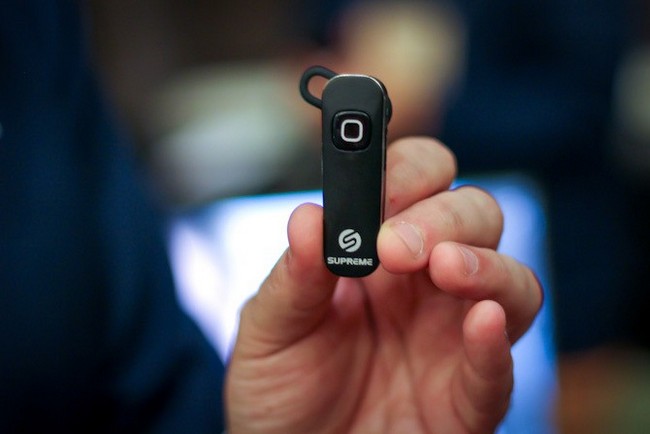 33 languages ​​for real-time translation - 59 languages ​​in text form
Real-time voice translation, you have 33 languages ​​available and more will be added gradually. If you want to switch to text typing, the total number of languages ​​will increase to 59.
Translation languages: Arabic, Chinese (Mandarin), Chinese (Cantonese), Czech, Danish, Dutch, English (Australia), English (Canada), English (United Kingdom), English (United States), Finnish, French, German, Greek, Hebrew, Hindi, Hungarian, Indonesian, Italian, Japanese, Korean, Polish, Portuguese (Brazil), Portuguese (Portugal), Romanian, Russian, Slovak, Spanish (Spain), Spanish (United States), Swedish, Thai, Turkish and many more...

Supreme Bluetooth translator - 6 main modes and 2 additional modes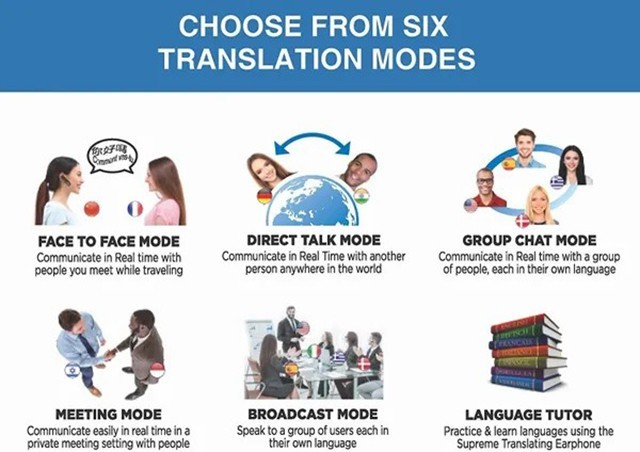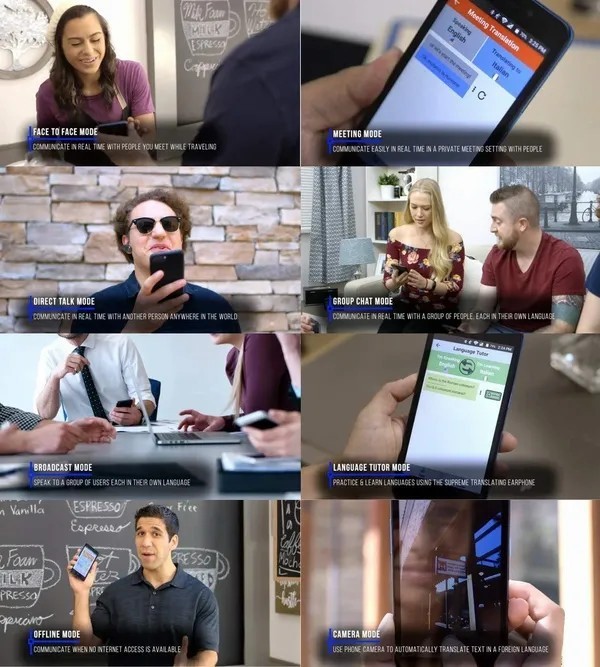 Face to face mode: communicate in real time with the people you meet on the way, everyone speaks and hears in own language.
Meeting mode: communicate in real time with people at a meeting, conference or seminar, everyone speaks and hears in own language.
Direct talk mode: communicate in real time with another person anywhere, everyone is speaking and listening in own language.
Group talk mode: communicate in real time with a group of people from different places, each of them is speaking and listening in own language.
Broadcast mode: talk with a group of people, host speaks in its own language, each audience can hear in own language.
Language learning mode: practice and learn languages ​​with a state-of-the-art voice translator.
Offline mode - text messages: to enter texts and translate them into the required language.
Offline mode - photo camera: take a photo with the texts and the device will immediately translate it into the requirered language.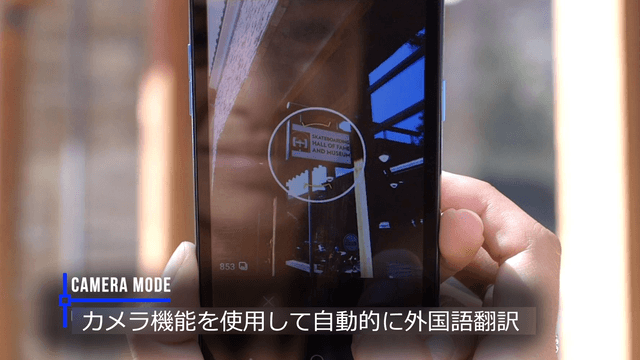 Specifications:
Model: BTLT-160
Bluetooth version: V 5.0, range 10 meters
Supported Bluetooth profile: HEP, A2DP, HSP, AVRCP
Input/output type: USB 2.0 mini, Micro USB * 1, MIC * 1
Built-in battery: Li-Polymer battery 90mAh
Charging time: 2 hours, DC 5V
Standby time: 120 hours
Continuous working time: 5 hours
Microphone: yes, built-in
Loudspeaker: loudspeaker with 8 mm moving coil
Manual keys: power key, speech key, volume keys +/-.
Touch key
Compatible operating system (for APP): Android 5.0+, IOS 10.0+
Available colors: black
Surface treatment: rubber coating
Product dimensions: 68 x 18 x 25 mm
Product weight (without accessories): 8,6 g
The package contains:
1x Headset translator
1x USB charging cable
3x Replacement silicone earpiece cover
1x User manual
Comments
Other Products