Flashlight with WiFi FULL HD camera + 2 LEDs and 32GB memory
Manufacturer
/
Products aviability

pre-order

Delivery time 1 - 3 weeks.
Yes! We Ship To
Price excl. VAT
$250.00
Price incl. VAT
$300.00
Product description

Flashlight with WiFi FULL HD camera + 2 LEDs and 32GB memory

Flashlight with WiFi FULL HD camera + 2 LEDs and 32GB memory. It is a very practical device with a wide range of uses both indoors and outdoors. It can also withstand worst conditions due to its waterproof finish. The flashlight has two LEDs. One works as diverging lens and the other as spot light and is blinking. The flashlight features an inconspicuous built-in 1920x1080p Full HD camera with a 30fps frame rate and a microphone for recording video and sound. This will guarantee high definition video recording without being noticeable.

The camera also provides the ability to record images at night only when the flashlight is on. The image is recorded in 16: 9 format, and the camera also has a 4:3 photographing function. Controlling is very simple with two push buttons on the flashlight. The camera in your flashlight is equipped with WiFi, which allows you to connect to it via your mobile phone. Just plug in your phone to download an app through which you have a live preview from the camera. You can also view camera recordings via your phone or download them directly to your phone via WiFi. The video is recorded to a built-in 32GB microSD card. Using a USB cable, you can connect the flashlight directly to your notebook and PC and download or view content. The 3500 mAh battery is rechargeable through the AC adapter.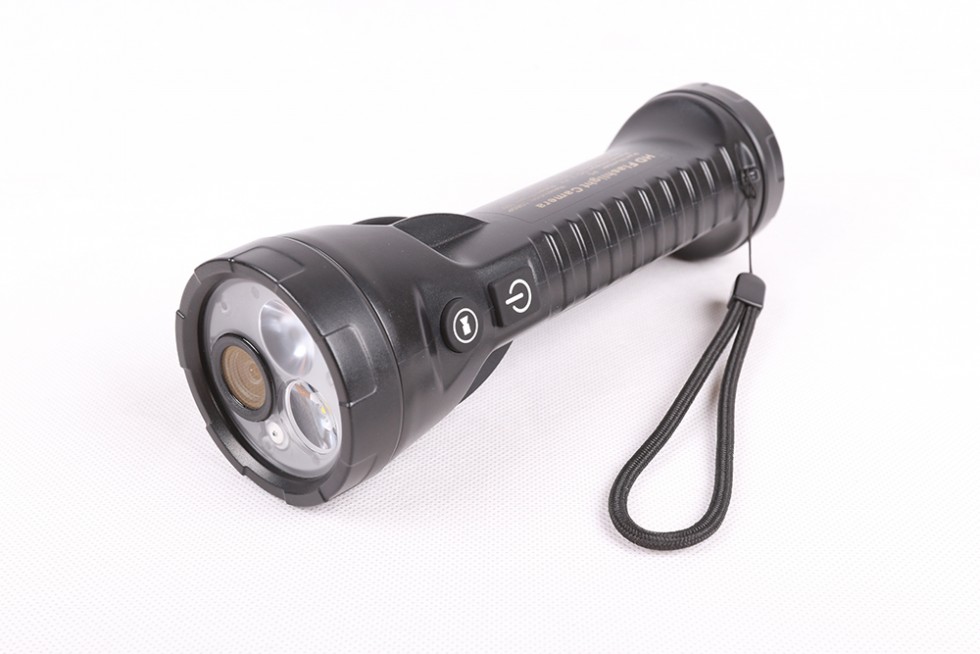 Features:
LED flashlight with hidden WiFi FULL HD camcorder
FULL HD image 1920x180P at 30 fps
Three illumination options (diverging lens - spot light - blinking)
Waterproof (rain, splashing water)
Specifications:
Video resolution: 1920x1080
Video capture: 30fps
Video format: AVI
Image format: 16:9
IP protection: IP67
Photo format: 4:3
Lens Resolution: 5Mpix
Battery: 6600 mAh
Power supply: DC-5V
Power cord: USB
Memory cards: Built-in 32GB microSD card
Package contents:
1x LED flashlight with hidden Full HD camera
1x AC adapter
1x Practical case
1x Manual
Comments
Other Products