MUVI Atom NPNG mini camera
Accessories Product
+

Micro SDHC 8GB Class 4 $11.50
+

16 GB micro sd class 6 $21.85
+

32 GB micro sd class 6 $36.80
Product description

MUVI Atom NPNG mini camera

MUVI Atom is the smallest sport - spy camera in the world! Thanks to its size and range of accessories is useable anytime and anywhere. The package includes a 4gb micro SDHC card for free! We are pleased to introduce new camera MUVI Atom with unique dimensions and a wide range of applications. Thanks to its durable metal body is suitable for sports activities or as a spy camera.

Mini Camcorder Muvi Atom with the dimensions 40x20x19 mm and weight only 40g is one of the smallest action digital cameras in the world.
The big surprise is the picture quality thanks to a 2 megapixel sensor and a sensitive microphone. Video recording can be activated by detecting increase of level of surrounding sound.
Unique and ingenious design of this mini camera lets you record video in situations where it has not yet been possible.
The camera is also due to its size very sincouspicuous which offers further use.
The camera can also be used for a photographing (photo resolution 1280 x 960).
Built-in 120mAh Li-ion battery - the camera lasts almost 1 hour of continuous recording.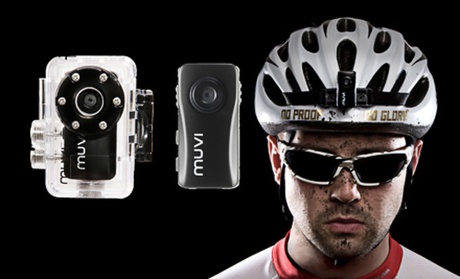 Specification:
- Record at resolution 640 × 480 at 30 + fps, sufficiently wide viewing angle of 80 °.
- Compact design, no cables - construction "all in one" offers maximum freedom of movement.
- Record on a MicroSD memory card (up to 16GB).
- Minimum dimensions and weight allow attachment of camera basically anywhere - inside motorcycle helmets, on clothing, on remote controlled models of cars, airplanes, security applications, hidden video recording etc.
- Two recording modes. 1 - starting and ending of video recording by button, 2 - Automatic start recording when detecting sound (with a level of 65 decibels or more), automatic ending of recording if the level of sound decreases for period 2 minutes.
- At the long lasting recording, the camera will save after every 30 minutes the file size of 800 MB
- Durable metal body with controls (on/off camera, start/stop recording, photo, detection sound mode on/off) and indicating LEDs (status of the battery/card/mode).
- Built-in Li-ion battery about 1 hour video recording.
- Simple mounting using clips (included)
- Funkcia Web camera connected to your PC.
- Waterproof up to 20m using a waterproof case (included).

Contents:
- MUVI Atom ™
- MUVI Atom ™ waterproof case
- 4 gigabytes microSD card
- USB Cable
- MUVI Atom ™ software
- MUVI Atom ™ spring mounting clip
- MUVI Atom ™ neck chain
- MUVI Atom ™ Carrying Pouch
- MUVI Atom ™ User's Manual
- Mounting bracket for bike / helmet
- Magnetic mounting bracket for wall
- MUVI Atom ™ head / helmet strap
- Mounting bracket Velcro
- Mounting bracket screws
- Mounting bracket straps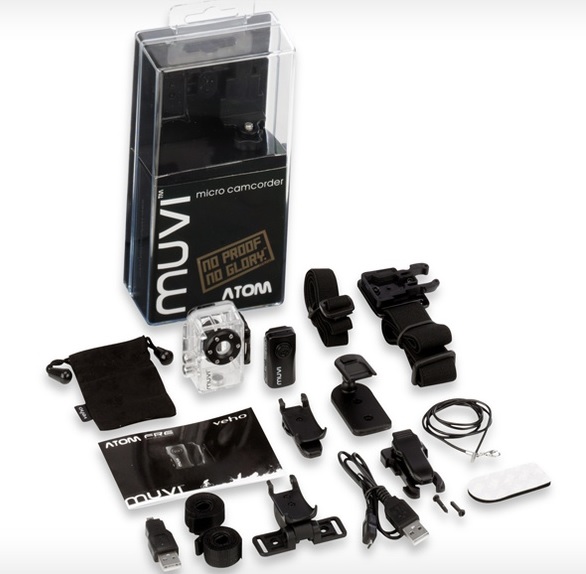 Comments
Other Products