DOD LS330W Dashboard camera
Product description

DOD LS330W Dashboard camera

DOD LS330W Dashboard camera - WDR technology is newest model of car black boxes made by DOD. Excellent video quality, F 1.6 lens - best car camera in the world. Camera DOD LS330W offers perfect video quality with resolution up to 1920x1080 @ 30 frames per second. It has the 2.7 "16:9 TFT LCD display for easy viewing and setting of video. Camera can be easily mounted on the windshield of car using the suction cup with bracket. It disposes with built-in G-sensor which automatically protects all saved files in the crash, emergency braking or tilt of the car.

The camera has Smart Over Speed warning. Set your speed, and once you drive over the speed limit, the alarm will remind you "Slow down, you´re driving too fast." Also it has the wide 140 ° viewing angle, it records road ahead, and on the both sides. Recording when motion is detected. Recording video starts automatically when the vehicle is moving, without pressing any button. The camera can be connected to an external GPS antenna (using the GPS locator), which is available to buy as an optional accessory. You will appreciate the GPS logger function, that means the record of you drive (GSP Location, current speed, video) you will be able to watch it on your PC with the supplied software. Ideal for companies for the control the driving of employees, professional drivers etc.

The new WDR technology - high-quality video in any lighting

It is also possible to use auto start of recording at the starting of car. With the new camera DOD LS330W you don´t have to worry that the memory card is full, the camera is equipped with a function time loop. If the capacity of micro sd card is full, the camera will automatically overwrite older recordings by newer ones. Built-in HDMI connector works as video output and recorded video files can be downloaded to a PC via USB or directly from microSD memory card.
F1.6 large aperture of lens - great low-light performance, it also means that your "Night Videos" will be perfectly visible.

Camera Car - DOD LS330W
For sale at a good price you can buy online in our e-shop. Certified e-shop - safe shopping.
Product Features:
Power WDR technology - high-quality video in any lighting
F1.6 big aperture - super low-light performance
140 ° wide viewing angle
6G sharp glass lens, wide viewing angle
Password protection
Full HD 1080p
2.7 "16:9 widescreen display
G-sensor - automatic file protection
SOS function - file locking
Auto start recording
Motion detection video recording function
Recording in a loop, marking the time and date
Benefits and innovative functions of DOD LS330W camera:
| | |
| --- | --- |
| | 6G sharp glass lens. It is made of ​​6 layers of glass, through which you can record incredibly clear and undistorted images, clearer details (plates, road signs, etc.). |
| | |
| --- | --- |
| | 1080p HD video recording and superHD megapixel CMOS image sensor. Whether it is day or night, it can perfectly record all the time. |
| | |
| --- | --- |
| | It captures more detailed images of the new aperture F1.6 - effect of recording at low light intensity. It captures better night shots than F2.0 and clearly recorded details such as license plates, road signs and other. |
| | |
| --- | --- |
| | Password protection. This feature allows the owner of password to protect the control settings or other operational settings, to change or delete the video or data files. |
| | |
| --- | --- |
| | HUD speed display. Reaches 5 times faster update of GPS. The driving speed is displayed on the screen in km/h. |
| | |
| --- | --- |
| | Smart overspeed warning. Set your speed, and once you drive over the speed limit, the alarm will remind you "Slow down, you´re driving too fast." |
| | |
| --- | --- |
| | HUD speed display. Reaches 5 times faster GPS update. Travel speed is displayed on the screen in km / h. |
| | |
| --- | --- |
| | Automatic calibration time. Receive GPS signals and records the "time" and the date "and automatically saves it to car camera. |
G-sensor data protection at impact.
When you crash, emergency braking or tilt of the car, it will automatically protect all stored and updated video files. Through this function the important files will not be deleted or overwritten in a time loop recording.
| | |
| --- | --- |
| | Manual SOS protection. In case of emergency allows users to protect existing files by long press of "SOS", keep a file of the recording loop against the overwriting. |
| | |
| --- | --- |
| | 2.7 "TFT LCD 16:9 widescreen display that provides clear pictures, suitable for setting and playing of videos |
| | |
| --- | --- |
| | it has the wide 140 ° viewing angle, it records road ahead, and on the both sides |
| | |
| --- | --- |
| | Recording when motion is detected. Recording video starts automatically when the vehicle is moving, without pressing any button. |
| | |
| --- | --- |
| | Automatic transfer of data - time loop. If the capacity of micro sd card is full, the camera will automatically overwrite older recordings by newer ones. |
| | |
| --- | --- |
| | Automatic operation - and start recording. After starting the car will automatically start recording, and after 5 seconds after turning off the recording file is saved and automatically turns off. |
Product Specifications:
Video resolution:
1920x1080 @ 30 fps
1280x720 @ 30fps
1280x720 @ 60 fps
848x480 @ 30fps
640x480 @ 30fps
Sensor: 3 megapixel 1/3 "CMOS
Wide view angle 140 °
Display 2.7 "TFT LCD 16:9
MOV video format
Picture format: JPEG
AVI video format

Video output: HDMI: Support
1080p/720p/WVGA/VGA output mode
Composition NTSC / PAL
Image resolution: 1.3, VGA, 2M, 3M, 5M, 8M, 10M, 12M
Recording media: Micro SDHC / MMC cards (up to 32GB)
Audio Output: Speaker (mono)
Audio Input: Microphone
Shutter button - Electronic shutter
Shutter speed 1/2 - 1/1000 second
Connection via USB port 2.0/HDMI/TV
Battery 3.7V 500mAh Lithium-ion battery
Hi-Speed ​​USB 2.0
Power supply: 5V 1A
Dimensions: 114,4 (L) x 47,9 (W) x 37,1 (H) mm
Weight: 71 g
Operating temperature: -30 ° C ~ 80 ° C
Includes accessories:
1x Black box for car DOD LS330W
1x Car charger
1x Bracket
1x Quick release suction cup
1x USB cable
1x HDMI cable
1x User Manual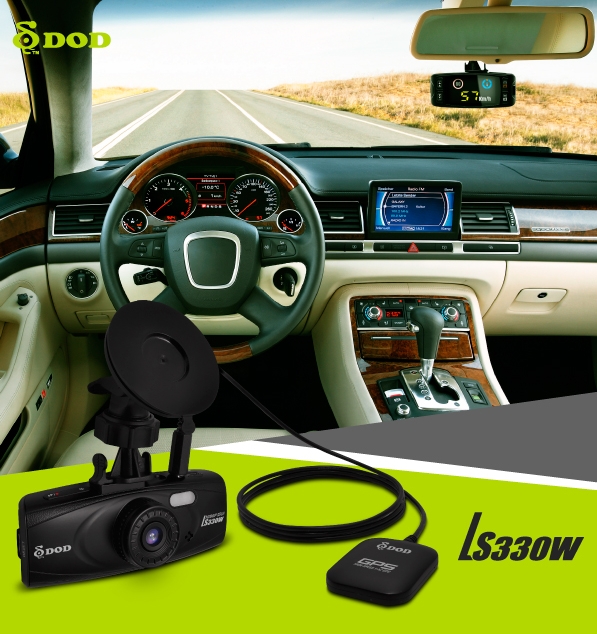 Comments
Other Products